Original Call Letters: WQBE
Originally Licensed: Sep 2004
Original City of License: Deltona
Original Frequency: 1610
Origin of Call Letters:
Original Power: 5 watts
Original Location:
Original Format: Non-commercial-Travelersí Information Station Service
Network Affiliation(s):

Owner(s):




2004

-Deltona City Government

History Of Call Letters and Formats:


WQBE

-

2004

-City Government information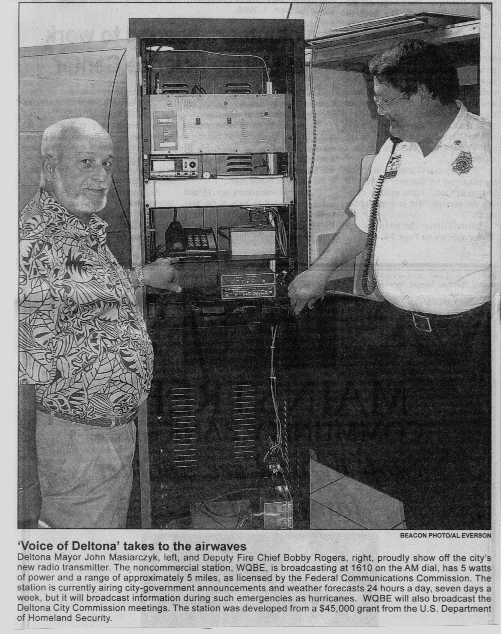 Photo courtesy of The West Volusia Beacon 2005
History of WQBE
During the summer of 2004 after suffering through three hurricanes, officials in Deltona and other cities said they were frustrated with the lack of information about their communities on television and radio. The City of Deltona decided the city needed a better way to communicate with the citizens.
Editors Note: The Orlando radio stations did a poor job of covering West Volusia County. The Black Crow stations took up the slack and were on the air and did a tremendous job. The county also did less than a stellar job covering Deltona which has a population of over 80,000.
Programming is a relay of NOAA Weather Radio Orlando (162.475 MHz), interrupted by periodic local announcements. WQBE is part of Travelersí Information Stations (also known as Highway Advisory Radio Stations) which are used by governmental organizations and park authorities in the United States to transmit information. The station operates at the city's main firehouse, No. 61, on Providence Boulevard.