My Daddy the DJ
by Martha Cowell Calloway
I am Brad Cowell's oldest daughter, Martha, and I treasure the memories of my Dad taking me to work with him when I was a little girl. I live in Franklin, North Carolina now, but seeing my father's name as a
WMFJ-AM 1450 personality brought back so many warm memories, that I just had to write.
First, Brad Cowell is listed as a WMFJ night personality during the late 1960's, when, if my memory serves me correctly, the mid 1960's would be more accurate.
He was first at WMFJ when it was located in the lower level of the Plaza Hotel. The Seabreeze beach approach tunnel ran through the building and I remember you could look out the window of the DJ booth and watch the cars drive through the tunnel to the beach.
When my Dad worked in this location I was probably 5 years old and it was such a thrill to be with him at work. I would sit quietly and watch him, spellbound by the way he talked and all the knobs and buttons and the music he played, and when I wasn't there and at home, I would listen to the radio at night when I went to bed and would fall asleep listening to his voice mixed in with the music and that classic AM band static. Back then, I thought my Dad was a movie star!
I was also star-struck with the other DJ "celebrities" that I met there, and who always treated me, like my Dad did then, as a "little princess". I remember Rick (?) Shira, and a couple of others who were called "The Good Guys", and I had an air-brushed sweatshirt that had their faces painted on it with "The Good Guys WMFJ" in big black letters above them. I also remember having a cowboy hat with "The Good Guys" airbrushed on it too, and if I'm not mistaken both are still in my father's old closet in my Grandmother's house in Daytona Beach!
My Dad was still working for WMFJ when it moved from the Plaza location over the river to a narrow street that ran parallel to Bay Street. It was located behind the old Volkswagen dealership. I don't know if that is where it still is now, but that is the last place I remember it being. I didn't go to work as often with my father to that location, but do remember once, in the middle of what I think was a Hurricane or Tropical Storm situation, going with him to check the station tower which was right next to the building. I stayed in the car (an old bathtub Porsche) while my Dad climbed part of the way up the tower in a yellow rain suit to secure it. It was raining so hard I could hardly see him out of the window of the car.
After WMFJ, if I am remembering correctly, my Dad worked briefly at WROD-AM 1340 when it was located in a big round glass building on the West side of Ridgewood Avenue (US1) between Daytona and South Daytona. Although I don't remember him working for WROD in the building they are currently in (the one in the photo on your website under WROD) it is possible he did for a short time before moving to South Florida.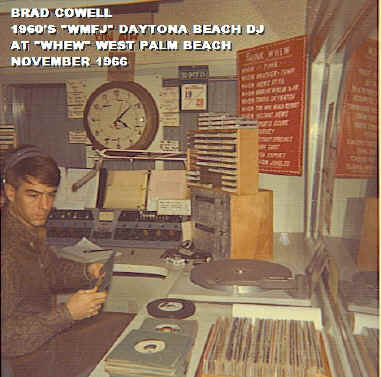 Around 1966, my Dad moved to West Palm Beach, Florida and worked as an evening/night (4-11) Disc Jockey under the name of "Rick Savage" first for WHEW and then for WIRK. I stayed in Daytona Beach with my Grandparents (father's parents) but visited as regularly as possible and once again loved going to work with him when he would take me. My Dad remarried while working for WIRK and also had a second daughter.
During his time at During his time at WHEW and WIRK he became interested in law-enforcement and ultimately became a police officer (around 1969) for the Riviera Beach Police Department in Riviera Beach, Florida, just outside West Palm Beach.
In 1971, my Grandfather passed away, and my Father, Stepmother and new Sister, moved from West Palm Beach back to Daytona Beach and began working as a police-officer for the Daytona Beach Police Department. He divorced around 1974 and remained living in the Cowell family home on Peninsula Drive.
Around 1991 he retired from The Daytona Beach Police Department, and around that same time married his long-time girlfriend of 16 years, Cheryl. Around this time as well he purchased a home on the St. John's River in Astor, Florida, and shortly thereafter became a father again, twice (two girls two years apart)!
In 1998 my Grandmother passed away and though my father still resides at the family home on Peninsula Drive, he and his wife, Cheryl, and daughters, Lacey (12) and Ashley (10), spend as much time as possible at their house in Astor, which is much more peaceful than life in Daytona Beach these days!
Well, I guess that's about it! I have so many wonderful memories of being with my Dad the DJ at the different radio stations he worked at when I was little, that I just had to tell you what I remember.
---