WLAZ
-FM 88.7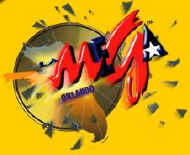 Clermont

Original Call Letters: WLAZ
Originally Licensed: Jul 18, 1997
Original City of License: Clermont
Original Frequency: 88.7
Origin of Call Letters:
Original Power: 1,000 watts
Original Location:

4550 Curry Ford Road, Orlando
Original Format: Latin Contemporary Music
| | |
| --- | --- |
| Owner(s): | 1997-Hispanic Broadcast Systems |
| | 2002-Concilio Mision Cristiana Fuente De Agua Viva, Inc. |
| | 2002-Caguas Educational TV, Inc. |
| | 2005-Central Florida Educational Foundation ($1.74 million) |

History Of Call Letters and Formats:



WLAZ

-1997-

Latin

Contemporary

''La Mega''

WWKQ

-2002-

Spanish

WQQZ

-2004-

Tropical

WWKG

-2005-

Black Gospel

WMYZ

-2005

-

Contemporary Christian

Simulcast of WPOZ-FM 88.3

WLAZ History
1997-Jose Arzuaga, a Puerto Rican broadcaster opened two FM stations, WLAZ-FM 88.7 in Clermont and WWKQ-FM 89.1 in Kissimmee. Both were licensed as noncommercial stations. The plans were to simulcast Top 40 Latin music and Spanish-language educational programming on the stations and call them ''the Z.'' The studios were located 4540 Curry Ford Road in Orlando. The 1,000-watt, non-commercial station is licensed and based in south Lake County, near the Four Corners area, where the Osceola County line meets with three other counties. The 400-foot broadcast tower is located on top of Sugarloaf Mountain. The signal reaches Orlando, Kissimmee, northern Lake County and Southwest Volusia County. The station will support itself with corporate sponsorships similar to those found on public radio stations.

WLAZ Personalities

Victelio Martinez-1997-General Manager/Co-host of "Mega-zine"-Hispanic Broadcast Systems
Pedro Miranda-1997-Co host of the morning show called "Mega-zine"-Hispanic Broadcast Systems
Joshua Arzuaga-1997-Program Director-Hispanic Broadcast Systems
Cocolo Rivera-1998-Sports commentator-Hispanic Broadcast Systems
Karyn Ramirez-Caguas Educational TV, Inc.
Johnny Moreno-1998-host of "Mega Jazz"-Hispanic Broadcast Systems-Caguas Educational TV, Inc.
Big Earl Lugo-2002-"It's a Rap"-a hip-hop radio show, 11 p.m. Saturdays-Caguas Educational TV, Inc.

Other Names In WLAZ History

Idalia Arzuaga-1997-President-Hispanic Broadcast Systems
Jose Arzuaga-1997-Senior Vice President-Hispanic Broadcast Systems
Jose Maunez-1997-Operations Director-Hispanic Broadcast Systems
Aura Cristina Bonfanti-Special Events Coordinator/Program Director/Public Service Director
Daniel Pol-1997-Sales Director-Hispanic Broadcast Systems
Rafael Brito-1997-Promotions Director-Hispanic Broadcast Systems
Lou Muller-1997-Chief Engineer-Hispanic Broadcast Systems

Other Programs In WLAZ History
2001-News live from Puerto Rico and the Dominican Republic each morning from 6AM-10AM