WHHL-AM 1190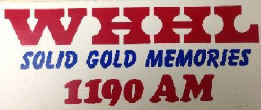 Pine Castle/Sky Lake
Original Call Letters: WHHL
Originally Licensed: Jan 28, 1977
Original City of License: Pine Castle/Sky Lake logo courtesy of Paul Walker
Original Frequency: 1190
Origin of Call Letters: Owners Names; Hyman and Harriet Lake
Original Power: 250 watts
Original Location: Archway Inn on Orange Blossom Trail
Original Format: Country
| | |
| --- | --- |
| Owner(s): | 1976-Hyman and Harriet Lake (Holders of Construction Permit) |
| | 1977-Borgen & Murphy |
| | 1982-Suntime Radio ($385,000) |
| | 1985-Comco, Inc. ($425,000) |
| | 1987-Alleluia Broadcasting Corp. |
| | 1993-Daystar Ministries ($350,000) |
| | 2000-Genesis Communications |
| | |
| --- | --- |
| History Of Call Letters and Formats: | WHHL-1977-Country |
| | WHHL-1978-Oldies "Golden 1190" |
| | WREM-1982-Adult Standards "Music of Your Life" |
| | WWLD-1985-Tourist Information "Radio World" |
| | WWLD-1986-Adult Standards (ABC Stardust) |
| | WWLD-1987-Silent |
| | WAJL-1987-Religion (Station sold. WAJL moves from 1440) |
| | WIXL-2000-Business News/Talk |
| | WAMT-2004-Talk |
| | WAMT-2009-Spanish Language Sports "ESPN Deportes Radio" |
| | WAMT-2012-News and Talk |
| | WAMT-2015-Ethnic |

WHHL History
From Steve Schiffman: "...The original owners of WHHL, were Hyman and Harriet Lake, developers of Sky Lake (He was a lawyer as well as developer who lived in Palomar/College Park). I believe they sold WHHL either when they still had the CP or at the time it was built.
Thanks to "Uncle Russie" (heard from 2PM until 5PM Saturdays on WLBE-AM 790) for more history of WHHL. He wrote; "The station originally broadcast in the lobby of the Archway Inn on Orange Blossom Trail, south of Sand Lake road. During it's last year as an oldies station it moved to Hoffner Avenue in Pinecastle.

WHHL Personalities


Steve Kennedy-1978-Borgen & Murphy

Bio

graphy

Vince Peters (Vince Edward)-1979-Borgen & Murphy



Sal Tee

(

Salvatore Taglireno)-1978-Program Director-Borgen & Murphy
Sal Tee's Opening



The Fatman (Rick Stevens)-1979-Afternoons-Borgen & Murphy
Bill Clifford-Mornings Courtesy of Steve West




Lee Bernard
Bill Stetzer


Little John (John Weyrick)-Weekends


Bill Patti
Sam Gilkey
Herb Craft
"Big Al"
A legend visits WHHL

The Wolfman and Bill Gallo at WHHL