Gordon Banta
Orlando Sentinel - March 4, 2008
BANTA, GORDON, June 14, 1937 - Feb. 29, 2008. Gordon was born in Patterson, NJ. He was a member of the US Navy and the teamsters. He is survived by wife Lisa, children Joseph, Teresa, Gordy and daughter-in-law Sarah; grandchildren Sophia and Marcus; former wife Gracie and Charlie; four brothers. Gordon loved horses, boxing, the New York Yankees and animals. A memorial service will be held on Sunday, March 9th at 5:30PM at 2130 Fawsett Road, Winter Park 32789. Friends and family are welcome. Gordon was heard on WGTO-AM 540 with Peter Banks on a program called "The Singles Connection, a talk show for singles. Gordon appeared on WJHM-FM 101.9's ''Psychic Wednesday''.

Red Barber dies at 84; was famed baseball announcer
TALLAHASSEE, Fla. (AP) Red Barber, the "Old Redhead" whose lucid descriptions of the Brooklyn Dodgers and New York Yankees games earned him a spot in Baseball's Hall of Fame, died today. He was 84. Barber worked when there were few ex-athletes in the booth to explain what was happening behind the scenes. In those hours before the game on planes, trains and in hotel lobbies he absorbed baseball until he could think like a manager. Barber, who built a loyal audience the last several years with a Friday morning talk show on National Public Radio, died at 10:14 a.m. (Muncie time) today from pneumonia and kidney complications, said Tallahassee Memorial Hospital spokesman Warren Jones. Barber was admitted to the hospital Oct. 10 for emergency surgery for an intestinal blockage. He remained in critical condition until his death. He is survived by his wife Lylah and daughter Sarah. The family has requested contributions in Barber's memory be made to the Alzheimer's Disease and Related Disorder Association. Walter Lanier Barber was born Feb. 17, 1908, in Columbus, Miss., and lived there until the age of 10 when his family moved to Sanford, Fla. When he was 21, he enrolled in the University of Florida and worked at a variety of jobs to pay for his education. He began broadcasting at the college station in 1930 and landed a job with the Cincinnati Reds in 1934. There was only radio then, and the man in the booth had to provide that picture for the fans at home. A runner wasn't just out at second, he had "the gate shut on him." When television came along, he learned to shut up and let the picture tell the story. "Radio is a pleasure to work in," Barber once said. "Television is like day labor." Like Los Angeles Dodgers announcer Vin Scully who broke in under him, he didn't need a Joe or a Reggie to explain to him what had happened. Barber was the announcer for the Reds from 1934-38. In 1939. he began broadcasting for the Dodgers and was on hand for such historic events as Mickey Owen's missed third strike in the 1941 World Series, Jackie Robinson's breaking of baseball's color line and Bill Bevens near no-hitter in the 1947 World Series. After World War II, Barber was named director of sports at CBS by Edward R. Murrow and served nine years in that position. After 1953, he left the Dodgers because of a salary dispute and began announcing for the Yankees the following season. Barber was there in 1956 when the floodgates were opened: the president of a beer company that sponsored Yankee games played a round of golf with Phil Rizzuto, just released as a shortstop by the Yankees, and decided that Rizzuto belonged in the broadcast booth. Out went Jim Woods, who shared the broadcast chores with Barber and Mel Allen; in came Rizzuto, who remains to this day. Barber was always a stickler for detail. He would arrive at the ballpark precisely two hours before the game to look at stats and talk with the players. "For three hours during the game I was a talker," Barber said. "For two hours before it I was a listener." For sports fans tired of organized chatter over the airwaves, it would be a delight to hear Barber, the man most of today's sportscasters credit with setting the standard for their craft. He was a man who coined the word "rhubarb," for fracas, ruckuses and arguments; a man whose soft southern tones "told it like it was" in the days before that phrase was a cliche. Being in the "catbird seat" was a good situation, and "tearing up the pea patch" was being devastating. Barber was fired in 1966 for telling it the way it was that there were exactly 413 people in attendance at Yankee Stadium for a late-season game.
Radio Newscaster Robert Barager, 78, Thought Life Was "A Great Gift"
Robert Barager could always make you smile. In fact, it was one of his priorities. "He saw life as a great gift and it was meant to be lived as happily as possible. It was the thing he wanted most in life, to make people laugh, not just through his words, but through his actions," his daughter Nancy Hoffman of Clearwater said. Barager of Leesburg died Saturday from complications after surgery. He was 78. After serving in the U.S. Navy in World War II, he settled in Saranac Lake, N.Y., with his wife, Patricia M. O'Brien. There, as a night manager for a local radio station, he earned the nickname "Mr. Sandman." The tune was his theme song. He moved to Michigan for work and then in 1969, he moved his family to Orlando, where he worked for WDBO(-AM 580) radio as a nightly newscaster and in marketing, and on a development board at the Greater Orlando Chamber of Commerce. His experiences let his personality shine through. At WDBO, Barager played Santa Claus and telephoned children to talk to them. "For years after, we would have him call our friends' children, and he would fool them into thinking it was Santa," Hoffman said. One of the things he was most known for was his voice.

When working for the chamber, Barager became friends with former Orlando Mayor Carl Langford. The two had a contest to see who could grow the longest mustache. Before retirement, Barager started a marketing and advertising agency, AdMark Group, which won many awards, including a national Addy award. "I always said from the minute his feet hit the floor in the morning until he was in at night, he was always positive, never rattled," his second wife, Ann Barager, said. "He always entertained. He was always able to tell a joke and had one for every occasion." Barager enjoyed being outdoors, and took his family on camping trips throughout the country. His daughter, Wendy Barager of Casselberry, described one of her and her sister's favorite memories: when he would make them "Bob's gasless beans." He said he would poke all the beans to get the gas out. In addition to his wife, Ann Barager, and daughters Hoffman and Barager, he is survived by another daughter, Carole Barager of Tampa. He is also survived by his grandson Mark Hoffman of Orlando; stepdaughter, Virginia Esposito of Lecanto; step grandchildren, step nieces and nephews and step great grandchildren. His first wife, Patricia M. O'Brien, preceded him in death. Baldwin-Fairchild Funeral Home, Altamonte Springs, is handing arrangements. Orlando Sentinel Apr. 19, 2004
Carroll M. Barringer
The Orlando Sentinel
April 11, 1968,
MR. CARROLL M. BARRINGER, 70, Rainbow Ridge, Eustis, owner of radio station WLCO of Eustis, died Tuesday. He was born at Newton, N. C, and moved to Eustis three years ago. He was a veteran of World War I, a graduate of Concordia College and Kansas State University, a former school board member and county commissioner of Catawba County, N. C, and a member of St. Phillip Lutheran Church of Mount Dora, Sigma Nu fraternity. Kiwanis Club of Eustis and the Masonic Lodge. He was a former mayor of Conover, N. C, past president of North Carolina Oil Jobbers, a former member of the board of directors of the Lutheran Children's Home of Salem, N. C, and former chairman of the Piedmont Area Development Association. Survivors: widow, Mrs. Artimesa H. Barringer, Eustis; son, Davis H. Barringer, Eustis; daughter. Miss Carol Barringer, Eustis; brothers. Dr. Marshall Barringer, Newton, and J. Earl Barrineer, Hickory, N. C; sister, Mrs. James K. Moretz, Conover, and two grandchildren. Zeller, Kennedy and Hamlin Funeral Home, Eustis.
Thomas Lee Barry, 79, Brought BBC Background To Area Airwaves


Orlando Sentinel June 12, 2003


For years, Orlando residents would tune their radio dials each week to hear Thomas Lee Barry review the latest movie or theater production. "He always had to have a microphone in front of him," said his wife, Christa Barry. "He was perfect on the air. He enjoyed every minute of it." Barry, a former critic and talk-show host for WDBO-AM (580) and WLOQ(-FM 103.1), died Monday of complications from heart surgery. He was 79. In 1979, he joined WDBO as a critic-at-large and talk-show host. With his smooth, rich voice, laced with a British accent, Barry offered his opinion on film, theater, music and anything else. "It was a very pleasant talk show," his wife said. The couple were married for 41 years. He also served as the quizmaster of High School Bowl on WFTV-Channel 9 in the late 1970s and later appeared on Channel 24 during the public station's auctions. In 1983, he moved to WLOQ, where he was a movie and theater critic before retiring in 1994. "Live theater was his passion," his wife said. "Shakespeare and all those things." Barry was a quiet man, "but put a microphone in front of him and he came alive," his wife said. "He was a natural ham." Born in Berlin, Barry left Germany for London in 1936 to attend school. For 25 years, he worked for the British Broadcasting Corp. He and his wife moved to Washington, D.C., in 1970, where for several years he worked for an importing company. In 1975, he moved to Orlando. In his spare time, Barry enjoyed listening to classical music, especially by Ludwig van Beethoven. Survivors also include one daughter, Michelle Barry of Orlando; one son, Ian Barry of Orlando; and one sister, Renee Fiorenza of Naples. Sunset Cremation Service, Orlando, is handling arrangements.
Alan Baxter (Irving)
Alan Baxter Irving, 70, of Fredericksburg, Virginia passed away on Thursday, August 27, 2020 at his home surrounded by family. Alan Baxter was a rock radio rebel and pioneer. A legendary morning radio show personality, his 30+ year career in morning radio spanned from coast to coast and brought joy and laugher to thousands of people each morning. He was a talented musician, voice over artist, and a devoted father to his children and grandkids. Survivors include his children, Jason Hampton, Daniel Irving, Jesse Irving, and Elan Irving; and grandchildren Cameron, Novella, Aya, Alana, Viviana, Abriana. and Ivy Moon. The family will receive friends at 2:30 p.m. on Saturday, September 5 for the Memorial service held at 3:00 p.m. at Covenant Funeral Service, Fredericksburg Chapel. In lieu of flowers, donations may be made to the family's fundraiser at Irving Family Cancer Care Support Fundraiser. Alan was part of WDIZ-FM 100.3's Baxter and Mark
John Patrick Beacom
Founder of Beacom Broadcasting Enterprises and original owner of

WJPB-AM 1220

in Kissimmee, John Patrick Beacom died at the age of 72 on January 3, 1976. Beacom also served as Member of West Virginia state house of delegates from Cabell County, in 1933, was also a member of West Virginia state senate 5th District from 1935-38 and then as Mayor of Port St. Lucie County.
Rick Beckett
Rick Beckett, whose career evolved from a Top 40 rock jock into an acerbic talk show host, died of a heart attack on February 26, 2009 in Grand Rapids, Michigan. He was 54. Rick's first full-time job was at

WGTO-AM 540

in Cypress Gardens. In 1984 Rick returned to Florida and Haines City to work at

WZNG-AM 1360. Rick was born in Kalamazoo, Michigan then the family moved to Grand Rapids shortly thereafter. His radio career began while he was still in high school at Union High School in Grand Rapids. Beckett's last entry on his blog was a quote from Leo Rosten: "The purpose of life is to matter, to be productive, to have it make a difference that you lived at all -- using the talents that God has given you for the betterment of others."
Gerald Bell
Daytona Beach News Journal Saturday, July 29, 2000
PORT ORANGE Gerald Bell, 71, of South Nova Road, a retired radio announcer for WROD-AM 1340, Daytona Beach, died Thursday at Country Manor. Mr. Bell, a Navy veteran of World War II, was born in Dauphin, Manitoba, Canada, and moved to the area in 1978 from Arizona. He enjoyed performing arts and fishing, for which he won various tournaments and trophies.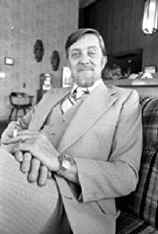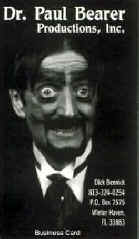 Dick Bennick
Horror show host "Dr. Paul Bearer' dies
St. Petersburg Times - February 19, 1995
Author: DEBORAH CIRCELLI: The Ledger
Ernest R. "Dick'' Bennick, known as Dr. Paul Bearer to horror movie fans in the Tampa Bay area, died Saturday morning after open heart surgery at Lakeland Regional Medical Center. He was 66. For 22 years, Mr. Bennick, who lived in Winter Haven, was the ghoulish host of WTOG-TV Ch. 44's Saturday noon horror show. His corny puns and raspy voice still were being heard after his death Saturday on a pre-taped showing of Graveyard Shift. It was his last appearance. Though the station had taped shows through April 1 of "Dr. Paul Bearer Presents,'' they will not be run at the family's request, a WTOG news release said. "We are all saddened at the passing of Dick Bennick,'' said Ed Aiken, general manager of WTOG in a statement Saturday. "Those of us who knew Dick will miss his humor and good spirit,'' Aiken said. Mr. Bennick, who first developed the Dr. Paul Bearer act in High Point, N.C., in the 1960s, was famous for his undertaker appearance complete with a black hearse, which he rode in parades throughout the bay area. But his trademark was his puns, including his sign off: ""I'll be lurking for you.'' Mr. Bennick, who worked in broadcasting for 40 years, was a former general manager of WGTO-AM 540 radio in Winter Haven. He retired from radio in March 1994 as regional sales manager of WEZY-FM 94.1 and WLKF-AM 1430 in Lakeland. Aiken said Bearer was an institution on the station and the longest-running host of horror movies in the country. Patty Bennick, who had been married to Mr. Bennick for eight years before their divorce in 1993, said he died after having open heart surgery Friday. She said the surgery was to redo a bypass that was done 14 years ago. "He was my best friend for nine years,'' said Patty Bennick, who had moved back in with Mr. Bennick and had been working on a reconciliation. Mr. Bennick was a three-time past president of the Imperial Polk Advertising Federation, which twice named him Ad Man of the year. He was the executive director of the Imperial Polk Advertising Federation and state chairman of the Addy Awards for the Fourth District American Advertising Federation. "He made an outstanding contribution to the advertising industry and to the community,'' said Art Rowbotham, president of Hall Communications. ""He would always appear in character whenever called upon to do so. He was quite a celebrity.'' Mr. Bennick, who collected monster movie magazines, was drawn to the entertainment industry at age 5 when he saw his first magician. When he turned 18, he joined an illusion show and traveled the country as a magician's assistant. Funeral arrangements were incomplete Saturday. Mr. Bennick is survived by his mother Margaret Bennick, 93, of Winston-Salem, N.C.; daughter Melody DeSanctis, Atlanta; son Ernest ""Rick'' Bennick II, San Francisco; three stepdaughters, Pam Wetherington, Atlanta; Laura Tuggle, Gainesville and Cindy Tuggle, Winter Haven; and four grandchildren.

J. L. "Bill" Berry
Daytona Beach Morning Journal
Feb. 4, 1979


James Lawrence "Bill" Berry, 61, co-host of the "Sunrise Jubilee" program, on WFTV, Channel 9, died Saturday. Berry joined WFTV in 1978 and had conducted more than 400 interviews with agribusiness guests from Central Florida. Berry was credited with being the areas first television weatherman and hosted the first Cerebral Palsy Telethon. The Seneca, S.C., native began his broadcasting career when he left the Army in 1945. He first worked for a Sarasota radio station and moved to Orlando two years later when he was part of the staff, which put WHOO(-AM 990) Radio on the air in 1947. In 1949 Berry joined WDBO(-AM 580) Radio ands television (channel 6) where he worked for 22 years. Berry resigned in 1971 to form his own advertising agency, Bill Berry Associates. During his long broadcasting career, Berry received more than 100 community service awards and citations a WFTV spokesman said. Berry's duties on "Sunrise" temporarily will be assumed by Barbara Stump. Survivors include Berry's widow, four daughters, and two sons. Funeral services will be at 10 a.m. Tuesday at Guy Black Funeral Home in Orlando. Burial will be at 2 p.m. in Palmetto.