Tampa Bay Times
July 26, 1997
Lyle Van Valkenburgh 1904-1997
Lyle Van (Valkenburgh), a pioneer of broad cast journalism, whose career spanned five decades, died last Tuesday of natural causes at his home in Clearwater Beach, Fla. Mr. Van was 92 years old. His "News on the Human Side" and signature radio sign-off, "Good night little Redheads" became a New York institution In the 1950s and '60s. Mr. Van was born, Lyle Van Valkenburgh on September 10, 1904 in Troy, New York. At age 19 he became the country's youngest U.S. Marshall, in Key West, Florida. He broke into Radio with WGST, Atlanta, and during the depression years won an announcer's job with NBC. Mr. Van was instrumental in NBC's coverage of World War Two, served as announcer for the legendary commentator, H. V. Kaltenborn and later anchored the "Pure Oil News" for NBC. Mr. Van joined WOR and the Mutual Broadcasting System in the early 1950's, anchoring local and national newscasts and became one of the most popular radio voices In New York City until his retirement in 1978. Mr. Van is survived by his wife, Lyvonne, and three little redheads, Lyla Yaston, an Anthropologist at the State University of New York, Denny Van Valkenburgh, National Sales Director at WRDW, Augusta, and WVLT, Knoxville, and Dirk Van Valkenburgh, a news correspondent and talk show host at NBC Radio. Memorial Service: 1 1 a.m., today, at Skycrest United Methodist Church, 2045 Drew St., Clearwater. MOSS-FEASTER FUNERAL HOMES & CREMATION SERVICES Serenity Gardens Chapel446-2375

WDLF-AM 1490 DeLand, Fla., 250 w full-time on 1490 kc, went on the air September 10, 1948 with celebratory ceremonies featuring Sen. Claude Pepper (D-Fla.) as principal speaker. The station is solely owned by Lyle Van Valkenburgh. He sold the station to Stetson University in Deland in 1950.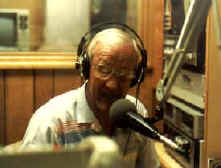 Frank Vaught
Photo courtesy of Dave Edwards
Published in the Orlando Sentinel on December 4, 2011

VAUGHT, FRANK F., 81, passed peacefully at the V.A. community living center in Winter Park, FL on Tuesday, Nov. 29, 2011, after a long battle of post esophageal cancer complications. Mr. Vaught is survived by sons Michael, Nashville, TN, Anthony, Cibolo, TX, Joseph, Orlando, FL, Patrick, Orlando, FL; two grandchildren, Preston and Gavin, sons of Anthony and Laura Vaught. Mr. Vaught was preceded in death by his first wife JoAnna, mother to Michael, Tony and Mr. Vaught's late daughter Karen. Born Feb. 19, 1930 in Williamson, VA, Vaught grew up and graduated high school in Huntington, WV. Vaught played baseball with the St. Louis farm system in Winston Salem, NC. He enlisted in the Army, 82nd Airborne Division and served from 1947 through 1958; Korean War Veteran and Marshall Island Operation Red Wing Veteran; witness to 17 Atomic bomb tests. Frank began his broadcasting career in Huntington, got a call from Channel 2 in Daytona Beach in 1958, and moved here to start his TV. broadcasting career. Soon after 2, Channel 6 in Orlando hired Vaught where he was mostly in the role of sports broadcasting, on the news morning, noon and night for 16 years. He organized and hosted charity golf tournaments and was noted for his attention to local schools and athletics. Frank took his voice to the radio too, broadcasting at WKIS(-AM 740), WHOO(-AM 990), the Gator Football network games and (WHTQ-FM 96.5) Q96. Vaught was inducted into the Florida Citrus Bowl hall of fame, media category. In Vaught's later career, he guided J and V Communications toward broadcasting the NBA's Orlando Magic games in Spanish in Orlando radio. Frank had a passion for golf, helping others, great laughs, a/v equipment and watching baseball, basketball and all other sports. A public memorial service for Frank Vaught will be December 9, 2011 at 11 a.m. at All Faiths, 4901 S. Orange Ave., Orlando, FL 32806. Mr. Vaught will be receiving full military honors on the 13th of December, 2011 at 12:30 p.m. at the Florida National Cemetery in Bushnell, FL.

Bill Vermillion Passes
Dick Camnitz aka Dick Shane reports the passing of an Orlando radio legend. Bill Vermillion known as "the weird beard" on WLOF-AM 950 has lost his 2 year battle with Cancer. Bill requested no formal funeral or memorial service but there most likely will be a celebration of his life at some later date. Stay tuned for details as they become available.

Longtime Orlando Radio Giant William Joseph Vermillion Jr. dies of cancer at 71
Rich McKay Sentinel Staff Writer May 27, 2008
Before the homogenization of radio, it was the voice of "The Weird Beard" who ruled Orlando's airwaves with rapid-fire banter, free-style record selections and a zaniness that has all but been sterilized out of existence. The voice of Weird Beard, a '60s- and '70s-era disc jockey for

WLOF AM

-- fell silent a little after 1 p.m. Saturday when he succumbed to a long fight with intestinal cancer, his son said. Vermillion was 71. "The chemotherapy had just worn him out," his son, William Fred Vermillion, said Monday from his Orlando home where a number of longtime friends and well-wishers gathered. There was no formal announcement and no funeral or service is planned, the younger Vermillion said, following his father's wishes. But news of the elder Vermillion's passing spread across Internet websites devoted to radio days of yesteryear.

Steve Rutledge, whose late father

John (Rutledge)

once owned the Orlando station, said that Vermillion should be remembered not only for his on-air presence, which was a must-listen for young people wanting the Beatles and later Jimi Hendrix, but for his uncanny ability to pick tomorrow's top songs before anyone else. "He was known as 'B-side Bill' because he'd listen to the flip side of a record, not just the A-side that the record producers were promoting," said Rutledge, now of Memphis, Tenn. "He was truly a legend, nationally known, everybody and his brother knew Weird Beard," he said. Former colleague

Lee Arnold, now of Milwaukee, said Vermillion is credited for putting Van Morrison's "Brown Eyed Girl" on the top-40 lists of the country back in 1967. After leaving the station before it was sold and automated in 1982, Vermillion became a recording engineer for BeeJay Recording Studio where he helped make albums for bands such as Molly Hatchet, Blackfoot and Judas Priest. In addition to his son, the elder Vermillion is survived by his wife Bonnie Vermillion of Winter Park; his brother Robert J. Vermillion of Great Falls, Mont.; daughter-in-law Brenda Vermillion; grandson Christopher Vermillion; and granddaughter Anastajia Williams.
Rich McKay can be reached at rmckay@orlandosentinel.com or 407-420-5470. Copyright © 2008,

Orlando Sentinel
Beloved Disc Jockey Dies In Crash


February 4, 2005 Orlando Sentinel
ORANGE COUNTY - A veteran disc jockey died Wednesday afternoon from injuries in a head-on crash east of Orlando. Michelin Villalobos' sport utility vehicle rammed a car about 12:56PM after he swerved across the center line into the southbound lane of Econlockhatchee Trail, according to the Florida Highway Patrol. Villalobos, 78, hosted a program on Saturdays for radio station WONQ-AM 1140 in Casselberry. A Central Florida resident for about 20 years, he was well-known for his earlier radio career in Puerto Rico, grieving callers to the station said Thursday. An autopsy will determine if Villalobos suffered some sort of medical emergency in the moments before the crash, said Trooper Kim Miller, an FHP spokeswoman. The driver and two passenger in the southbound car were treated at Orlando Regional Medical Center and Florida Hospital East with less-severe injuries, the FHP said.