Wayne Weinberg Biography
WDBO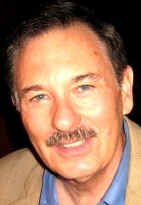 Wayne Weinberg enjoyed a long and distinguished career as a broadcast journalist. Wayne was the morning news anchor on WDBO-AM 580's "Central Florida Morning News with Jim Turner" for 11 years. Weinberg became one of the area's most popular media figures. Among numerous honors for his news reporting and management, he and his team received the distinguished Edward R. Murrow Award for the best news operation in North America . He is also a freelance voice talent who has been heard in dozens of markets across the nation. He was the official voice for Walt Disney World's re-dedication of the Magic Kingdom. Wayne also hosted "Ask Disney", a one-hour show airing live each Saturday morning from Disney-MGM Studios. Wayne's co-host was Walt Disney World ambassador Kim Hursh.
Currently Wayne is the Director of Development for the College of Engineering and Computer Science at the University of Central Florida. Prior to joining UCF, Wayne was the President of the largest Chamber in Seminole County, the Greater Seminole County Chamber of Commerce. In the mid 90's, Weinberg was one of Orlando's most visible government officials, serving as special assistant to the Honorable Glenda Hood, Mayor of Orlando. In addition to being the city spokesperson, Weinberg advised the Mayor on issue management.

In addition, he has served many local organizations including; The Central Florida Zoo; Heart of Florida United Way; Florida Citrus Sports; Leadership Seminole; Seminole County School Readiness Coalition; Seminole County Youth Commission; Seminole Cultural Arts Board; Florida Hospital Altamonte Foundation; UCF College of Arts & Sciences Dean's Advisory Council; UCF Nicholson School of Communication Advisory Committee; Boy Scouts of America; Olympic Soccer; American Cancer Society; March of Dimes; Central Florida Commission; Rap Against Drugs; and the Foundation for Seminole County Public Schools.