WMJK History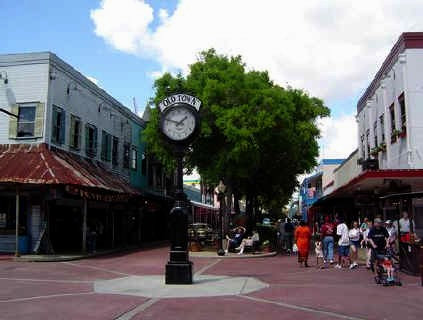 In 1964 the FCC began accepting applications for a silent Kissimmee station, WOSL. In 1966 the FCC granted a construction permit for a 1,000 watt, daytime only operation to J. Patrick Beacom. In March, Mr. Beacom took on a partner, Hoyt C. Murphy and the corporate name became B & M Broadcasting Corporation. The calls WJPB were issued. WJPB began broadcasting in 1966, from a 230 foot tower on Hilda Street not far from the proposed theme park planned by the Walt Disney Company.
In September WJPB was sold. New owners Robert W. Marlowe, Sam Gilkey and Thad M. Lowrey changed the call letters to WACY. From Paul; " At that time the station was located on Altman Street (off Neptune Road) near Lake Tohopekaliga, east of the Kissimmee city limits...actually on the edge of a swamp, but great for the tower ground array! We were broadcasting with 1,000 Watts daytime only at that time. By 1971, Sam Gilkey became President and General Manager of WACY. Lowery was part owner of WGUL in New Port Richey. After a couple of years, Marlowe moved back to N.C. and was killed in a traffic accident. Before leaving he sold his shares to Pat Yaturo of Indialantic. In June of 1972, WACY moved the studios and transmitter from Hilda Street to Highway 441 and Donegan Avenue in Kissimmee. WACY was granted 65 watt pre-sunrise authority in May of 1972. WACY operated from 6AM until 6PM daily." Sam Gilkey tells me "...we realized the station did not have enough money to hang on and we started looking for a buyer. The station was sold...(in 1974) to a group out of West Tennessee who ran it absentee for a year or so and then sold to an Orlando group...". Founder, John Patrick Beacom died at the age of 72 on January 3, 1976. Beacom also served as Member of West Virginia state house of delegates from Cabell County, in 1933, was also a member of West Virginia state senate 5th District from 1935-38 and then as Mayor of Port St. Lucie County. In 1976, WACY left the air for a few months until Magic Box Media purchased the silent station in the summer of 1976. The WACY calls were replaced with WMJK. In December of 1976, the FCC allowed WMJK to move it's studio location to 3150 N. Poinciana, outside the Kissimmee city limits. In 1979, the FCC granted WMJK permission to change its studio and transmitter remote control point to 1200 Central Avenue, a single story office complex known as "The Atrium". In 1980 the transmitting location was moved east of US Highways 92 and 441. That same year WMJK was sold to Central Florida Spanish Broadcasting. By 1986 WMJK was sold to the Cawley Broadcasting Corporation. In 1990, the station's licensee name was changed to Kissimmee Broadcasting Corporation, Inc. and WMJK moved to new studios at 3463 Vine Street. In 1991, Kissimmee Broadcasting was reorganized and in 1992 the studios were relocated to 5770 West Irlo Bronson Memorial Highway in the "Old Town" complex and WMJK changed formats to "Travelers Information". In March,1994, WMJK went silent, but would return to the air in September of that same year when Winfield Broadcasting Inc. purchased the station and changed the call letters to WOTS, "The Vacation Station". The FCC granted permission to add 110 watt nighttime operation in June, 1995 and by 1997 WOTS began a 24 hour operation. In June of 1999, WOTS was sold to J & V Communications for $450,000. The studios were moved to 222 Hazard Street, Orlando in 2001 but remained licensed to Kissimmee where it's tower and transmitter are located.

Spanish radio station to air from Orlando
Orlando Sentinel 1977
Beginning Oct. 1 Orlando will have its first Spanish radio station WMJK-AM which will broadcast from 6 a.m. to sundown with a format that includes popular music, news, sports, soap operas and commentaries, the station's general sales manager Sonny Santana, said today. Owned by Magic Box Media Inc., Winter Park, the station is licensed by the Federal Communications Commission and will broadcast at 1220, Santana said.