History Of Call Letters and Formats:


WDKA

-1982-

Construction Permit
WUSW-1982-Construction Permit
WDFL-1985-Modern Country
WDFL-2000-Classic Country
WYNY-2003-Classic Country "Country Legends"

WMJQ

-

2008-

Classic Country

"Country Legends"

WZCC

-

2008-

Classic Country

"Country Legends"

WZCC

-

2009-Silent (Jul)

WZCC

-

2010-

Oldies

"The Music of Our Generation"
WZCC-2011-

Oldies

Scott Shannon's True Oldies
WZCC-2014-

Oldies

"Classic Hits"
WZCC-2017-Country "Country Legends" (Westwood One)

History of "The New" WZCC
From John Elliott, CEO of Suncoast Radio, Inc.
The station returned to the air on March 5, 2010 after being silent for nearly a year. The new format is oldies. The new branding is "The Music of Our Generation".
John Elliot tells us a bit about himself. "...Started in radio in 1964 as a high school student at WBEX(AM/FM) in Chillicothe, Ohio. Worked at WIOI(-AM 1010) in Portsmouth, OH, WCOL(-AM 1230) in Columbus, OH, WSAR(-AM 1480) in Fall River, Mass., WBSR(-AM 1450) in Pensacola, K-POI AM 1380 (the original Poi Boys station, NOT 98Rock KPOI-FM) and KKUA in Honolulu, HI, and after a several year break from radio and a move back to Florida, hosted the "Nostalgia Zone Oldies Show" on WTAN(-AM 1340) in Clearwater 2008-2009. I was also an actor on several television series filmed in Hawaii: Hawaii 5-0, Magnum PI, and many less memorable shows (anyone remember "Jake and the Fatman in Hawaii"???)
WZCC began broadcasting under Suncoast Radio on March 5, 2010. Prior to that the station had been off the air for nearly a year. Long time residents may remember the station as WDFL, WYNY, and other call signs under previous owners throughout the years. John Elliott and wife Pat purchased the station in February with the goal of creating a community radio station for Cross City and surrounding areas. The studio is located in the Dixie County Advocate newspaper building at 174 NE 351 Highway in Cross City. Our tower is located on SW 351 Highway just outside the city limits. Suncoast Radio, Inc. is headquartered in Palm Harbor in Pinellas County.

WZCC And WLQH Combine Their Signals 12-5-10
Suncoast Radio, Inc. is in the process of acquiring WLQH-AM 940 from Ocala Broadcasting. An LMA began on Dec. 1. WZCC-AM 1240 is now simulcast on WLQH in Chiefland. This more than doubles the coverage area. Details and a combined coverage map is on their website at www.suncoastradio.com.

WLQH Purchases FM Translator 3-26-13
Suncoast Radio, Inc has purchased an FM translator from Reach Communications. The translator is located in Newberry. The sale price was $20,000. Suncoast will be re-broadcasting The True Oldies heard on WLQH-AM 940 and WZCC-AM 1240.

From John Elliot CEO of Suncoast Radio 10-19-17
We did a recent format flip from "Classic Hits" to "Country Legends" utilizing the Classic Country format from Westwood One. Like Classic Hits, this format will be simulcast across all three of our stations WLQH AM 940 Chiefland and its translator currently on 93.3 (more on that in a moment) and WZCC AM 1240 in Cross City. WZCC used the Country Legends brand prior to our purchase of the station in 2010. WLQH had a long history of country music formats, including Classic Country 940 AM, under previous owners. I always felt this was a strong format for our area but in our formative years we were not in a position to challenge WDVH FM (101.7) when it was programmed by Mr. Jim Brand. With the recent sale and format flip of 101.7 FM to Joy FM we hope that lovers of great classic country songs performed by the true country legends will tune us in! We will continue our local programming including Chiefland High School varsity football in season plus a special version of the Prep Zone Nature Coast produced 3 days a week for us by Mike Ridaught featuring other sports and other schools in the Tri-County area year round, provide local weather from the Radio Forecast Network, hourly news updates from Westwood One, stock market reports from Lou Dobbs, the Daily Community Check bulletin board, and of course affordable advertising opportunities for local businesses to promote their goods and services to local listeners. Also, when Hurricane Irma closed in on our area we teamed up with WCJB TV Channel 20 in Gainesville to simulcast their wall to wall weather coverage until the storm passed. WLQH has received a CP to change the frequency of our Chiefland translator W227AV 93.3 to 93.1 (new W226CI) to escape co-channel interference from WJBT FM in Callahan. This should be happening in the next week or so. Also we appear to be a "singleton" applicant for a new translator for WZCC AM in Cross City on 96.3. Since the final list of applicants is not expected until November we do not have any prediction of when we may get that translator on the air. It will be 250 watt ERP from the WZCC tower in Cross City.

Names In WZCC History



John Elliott-2010-CEO-Suncoast Radio, Inc.
Pat Elliott-2010-Suncoast Radio, Inc.



Mike Shaw-6AM-10AM-Suncoast Radio, Inc.



JJ McKay-10AM-3PM-Suncoast Radio, Inc.



Jay Fox-3PM-8PM-Suncoast Radio, Inc.



Scott O'Brien-8PM-1AM-Suncoast Radio, Inc.




Kent Richards-1AM-6AM-Suncoast Radio, Inc.



Mark Elliott-Mornings-Suncoast Radio, Inc.



Timm Morrison-Mid-days-Suncoast Radio, Inc.



Becky Shock-Afternoons-Suncoast Radio, Inc.




Chuck Perks-Overnights-Suncoast Radio, Inc.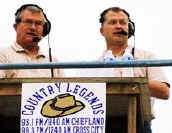 Ken Hutson (r) with the play by play and Coach Harry Hutson