Leslie Brewington aka Ms.B! Biography
WKIS WWNZ WTKS WJHM WCFB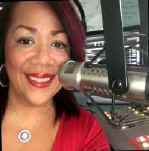 Leslie "Ms.B!" Brewington was born in Puerto Rico. As an infant she was adopted and the family moved to Harlem in New York City. "Ms.B!" came to Florida at the age of 20. Leslie is a graduate of the University of Central Florida with a B.A. Degree in Radio and Television Communications. Since her graduation "Ms. B" has been the first Fire Information Specialist for the City of Orlando Fire Department. Her radio career began in 1986 at WKIS-AM 740 as producer for the Clive Thomas show. Leslie became known as "Ms.B!", when she moved with Jim Philips to WTKS-FM 104.1 in 1992. Leslie was Jim's foil for 4 years. Ms. B! did her last "Philips Phile" show Nov. 18, 1996. She left "The Phile" for the morning drive slot on WJHM-FM 101.1 "102 Jamz" that year. Currently she hosts a Saturday program on WCFB-FM 94.5. "Ms.B!" is also an a co-owner of Pretty Women Consignment, Orlando's only plus-size women's consignment store. "Ms.B!" enjoys spending time with her husband, James, and their 4 children.