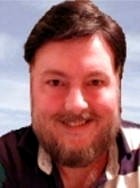 I started out at WDAT(AM 1380). My mother was with General Electric (when they were still in Daytona) and did some sort of interview with Don Skylar, who was then the Sales Manager (at WDAT). She happened to mention she had a son who was interested in radio and Don told her to have me come by and he would show me the station. I went and was HOOKED! After bugging them for several weeks, their regular weekend guy (Lee Phillips) was going to get married and they had no replacement. "...Lynn Younger was the P.D. and about 3 months after I started there, he got fired...they brought in Rick Shaw from WLCY in Tampa to replace him and he immediately decided he didnít like me. So, I got my "official welcome to radio" and was fired.
Dave Roberts ("The Mighty Midget") who also got fired from WDAT after Shaw showed up, was at WOGO(-AM 1550) in New Smyrna Beach. He called me and asked if Iíd like to do afternoons. SURE! That lasted about two months. They got a new P.D. too. Pretty cool that when you became a P.D., you could fire everyone so you could bring in your friends...NOT! Meanwhile, Gerry Peterson (Cagle) had taken over programming WMFJ(-AM 1450) (replacing Doug Montgomery). I called him and he said he didnít have anything but to keep in touch. I took that as his approval to call him every week. Finally, after about 6 weeks, Rob Thomas (12Mid-6AM) was going on vacation and Gerry asked me if Iíd like to fill in for a couple of weeks. Maybe I just wore him down with all those calls. I never knew until a year or so later that he, Mike Jay (6PM-12Mid at the time), Doug James (middays) and some other guys were playing cards that night and were listening to by first hour or so. About a year later, Mike Jay told me after two breaks, Gerry stopped and said "thatís our new all-night guy". So, I had my first REAL full-time job in radio. Rob Thomas went to weekends until I moved to 6PM-Mid. After about 6 months or so,...Mike Jay was moved to mornings so 6PM-12Mid opened up. I bugged the hell out of Gerry and he finally told me I could do 6PM-12Mid until he found someone. He never did.
About a year later, Gerry left for KRIZ, Phoenix and Mike Jay became P.D. He hired Dain Eric to replace Peterson. Well, Mike...started dating the Traffic Director. Unbeknownst to him, Dick Clark (the G.M.) was also seeing her. When Clark found out about it, Mike was immediately demoted and Dain Eric was made P.D. Dain and I...did not get along so within 2 weeks I was fired. I went back to WDAT to do part-time again.
Dain only lasted a short time before being fired. Mike Jay was P.D. again." "... I called Mike and he said heíd see what he could do about getting me back. As luck would have it, they were...unhappy with the night guy Dain hired (Don Shoe) and fired him. Mike called me and back I came. Welcome to the wonderful world of the merry-go-round that was radio.
After a year or so, I was getting the urge to move up to bigger and better things...so I sent out some tapes. Dick Clark heard I was sending out tapes and had Mike Jay fire me AGAIN! I went back to WDAT and asked them if I could do part-time again. I was supposed to start in two weeks. The week I was supposed to start at WDAT, I got an offer from WLLH in Lowell, MA and I took it." "...I worked in Lowell for about 9 months and heard Gerry Peterson was going to program WRKO. Boston was about 30 miles south of Lowell so I called him a few days after he started there just to say hello and let him know where I was. He said "you gotta come and see this place. Itís a palace." Was it ever! " "...So in 1973, I started at WRKO doing the all-night show. I knew it was not going to be the pinnacle of my career but it would look great on a resume and help me immeasurably in my next job search. So, after about 6 months, I started sending out tapes.
I sent one to a consultant, Bill Parris that had a Washington D.C. P.O. Box. Iíd LOVE to work in D.C.! He called me a week after I sent the tape and asked if Iíd like to go to (of all places), Columbus, GA to help start up a new station and be Asst. P.D. I figured that would put me in on the ground floor of a pretty exciting project plus I really wanted to do early evenings so I went and I could add Programming to my resume. It was great. Number two within one book but...it was Columbus, GA! Again, I sent out tapes. Meantime, I had become P.D. replacing the original guy, David Tate (who has become a lifelong friend). As a side story, while still in Columbus, I went to visit David one weekend in D.C. where he was staying with his parents between jobs. Since they didnít have any extra room at his house, I stayed with a friend of his by the name of Steve Kushner who was the janitor at WINX in Rockville, MD. (this will be important later). Meanwhile, "U-100" (WYOU-AM/WYOO-FM) Minneapolis/St. Paul called and offered me nights. It got me out of Columbus and was a pretty good-sized and competitive market so I took it. Meantime, Bill Parris started consulting a station in Baltimore, MD (WLPL). He tracked me down and asked me to come and do nights in Baltimore. I liked Bill and we got along real well so off I went. I was there for 6 years eventually becoming P.D. In 1981, they decided to change the station to a soft rock format. Since I was NOT a soft rock kinda guy, they transferred me to their Cleveland, OH station, WLYT (coincidentally enough, on the same frequency as WLPL). After 6 months or so, they decided they needed to change the format to ďnew rockĒ (and call letters to WRQC). Well, I wasnít a ďnew rockĒ guy either. I was a Top 40 jock. Luckily, I had purchased a computer recently and learned to write programs. United Broadcasting Company (the owners) were just beginning to flirt with doing their own research. I kinda knew what I was doing so they made me Research Director (instead of firing me when the format changed). I organized a callout department and wrote some software to "crunch the numbers". About 6 months into the new rock format, they decided it wasnít working and they needed to go back to Top 40. Of course, they needed a P.D. and I was already in the building. I really hated Cleveland and was pretty unhappy there. It had been about a year, and out of the blue, the P.D. I worked for in Columbus, GA (David Tate) called and told me he was starting a research company and asked if Iíd like to write software for him. GOODBYE CLEVELAND! The research company (Rantel Research) was in Laurel, MD. By now itís 1985 and I still wanted to do some radio but this research gig was just so easy and fun, thereís no way I could do both...or could I? I was at home one day and got a call from some guy named Steve Kingston, P.D. at "B104" (WBSB) in Baltimore. Oh, yeah. That was that Steve Kushner guy I stayed with when visiting D.C. while I was in Columbus, GA. He had just lost his night guy and wanted me to come and do nights. I talked it over with David and he said that I could still write software for Rantel on a "project" basis. So, I was back in radio. Steve also wanted me to set up and run a research department for "B104". So, now Iím doing both things I love to do; be on the air and write computer software. Life was good. I got a call one day in 1987 from a guy named Jonathan Cohen. He had been a "gopher" during my WLPL days." "...He had purchased a radio station in St. Croix (U.S. Virgin Islands) a few years prior and had just bought another one in Corpus Christi, TX. He was looking for someone to run both as Group Program Director. Would I like to do it? The Virgin Islands sounded great but, I was going to be based out of Texas. However, I got to go to the Virgin Islands on a regular basis." "...(I was) fired...after about 6 months. BTW, the book for Corpus Christi came out right after I left and the numbers went from a 4. something to a 10 share." "...back to Baltimore I go and picked up where I left off with Rantel Research. Meantime, Steve Kingston had left "B104" for "Z100" (WHTZ) New York. But there was this new guy, Chuck Morgan. So I called him and asked if he had anything. Luckily, he did. 10pm-2am was open. I took it knowing that this would not be my last stop on the radio trail and continued to look. Chuck grew up in Erie, PA and told me about a new station starting in there. Ever since Columbus, GA., Iíd wanted to do a "start-up" on my own. In my opinion, itís the most exciting thing you can do in radio. So I sent my material. A guy named Rick Rambaldo (the owner) called me and asked if I would be interested in flying up for an interview. When I got there, the place was in a shambles. Rick had just bought the station and the entire facility was gutted. 2x4ís were the only thing in the building...no walls and NO BATHROOM. Until a toilet finally got installed about 3 weeks later, we had to go outside (it was waaaay out in the sticks). If you felt the urge to do anything other than pee, you had to go to the local McDonalds about 5 miles away. This did not look good. Rick is a pretty charismatic guy and tells a great story. By the end of the interview, he could have sold me the Brooklyn Bridge and Iíd have gladly paid whatever he wanted for it. I took the job. After going back to Baltimore and getting my stuff, I arrived in Erie. Strange thing. Weíd never discussed the format. I simply assumed it would be Top 40 since I was, after all, a Top 40 kinda guy. WRONG! Nothing was decided...yet. We sat down about a week after my arrival with a friend of Rickís who he worked with before he got into ownership. His name was John Chafee; President of Programming for Malrite. After looking at the available audience in Erie, they decided weíd be a Classic Rock station. I didnít know anything about Classic Rock and I was SCARED. So, I called David Tate at Rantel and asked him what...I should do...can you send me some music test data from some Classic Rock stations? Davidís advice was to "program it like a Top 40 station and just happen to play Classic Rock music". Best advice I ever got...I can do that. The short story is that we signed on in the middle of the Ďbookí. The station was previously a weird country station with a .1 in Arbitron (thatís a POINT ONE). When the book came out (less than 3 months later), we had a 14.7. Okay, so maybe this wasnít so hard after all..." "...When I left, we had a 20.6. BTW, we did not have a TV spot, newspaper ad or any other form of outside advertising. Another weird radio coincidence...the call letters in Erie were WRKT (they were formerly in Cocoa Beach) and I knew a lot of guys who had come to Daytona when I was there from WRKT(-AM 1300). After a year and a half, I started looking again. I didnít want to live out my days in Erie (although itís really a great little city and probably the most fun I ever had in radio). Through Rantel, I knew Dan Vallie. One of the stations he was consulting was WVGO ("Oldies 106") in Richmond, VA. The station was "on the block" to be sold but they needed a P.D. until that happened. Since it was a MUCH bigger market than Erie and I thought Iíd done all that I could at "Rocket 101" (WRKT), I went. Another weird radio coincidence...the afternoon guy at WVGO was Bob Stevens. The same guy who used to program "I-100" in Daytona Beach! After about 4 months, the sale of WVGO finally went through and Iím out of work. So back to Rantel. I was only there about 3 months and this Steve Kingston guy calls me again. "Come to New York and be Research Director and do some on-air stuff". New York? The number one market in America????? Iím there! About a year into it, I was in Steveís office and the former "Z100" General Manager, Dean Thacker stopped by. He was now President of Malrite. We discussed old radio, research and programming and I thought he seemed like a nice guy...and that was about it. About 3 months later, Dean was looking for P.D. for a station Malrite owns in Nashville, TN....the LEGENDARY WYHY ("Y107")." "...I was there for exactly one year." "...My mother was still living in Daytona Beach so I went to stay with her until I could find something. I was there about a week and a guy who was my independent record promoter in Nashville called me and told me that there was a P.D. opening at WNFI(-FM 99.9)." "...The General Manager, Tom Pannucci asked me to come in for an interview. I guess he was impressed because the next day he called and asked if I could come back for another interview with Steve Humphries; the President of Programming that day. After talking to them for about 20 minutes, they offered me the job. The station was some sort of rock hybrid and Steve wanted it to be Top 40. So, Iím a Top 40 guy again. He told me to look for some call letters that would go with the "kiss" moniker. Their other Top 40 in North Carolina was also "kiss" so we could share programming elements (not the best reason in the world but, you play the hand youíre dealt). I looked for all sorts of combinations. When I finally tried WFKS, it was available...(and it looked like a real dirty word which amused me no end.)" "(Meanwhile), Rantel Research had moved their operations to Dallas, TX. David Tate called and asked if Iíd like to come back. Dealing with the Group P.D. for Heritage (who owned WFKS at the time), I could see the handwriting on the wall that radio was about to become REAL corporate and not fun at all, so I left radio and went back to writing software. Itís was a long, strange, IRONIC and wonderful trip. My radio career came full-circle, starting and ending in Daytona Beach. I wouldnít trade those experiences for anything. I now own an Internet company (KEP Internet; www.kep.net) that does web hosting and design and writes custom business software.