Larry Shannon (Larry Roberts) Biography
WKIS WESH TV
Larry Shannon (Larry Roberts)-WKIS-AM 740-1971-1974-Program director and afternoon personality. In a couple of great emails form Larry he fills us in on some of the other folks at WKIS during those years. "...hired Pete Forgione from some Kissimmee station (WFIV AM 1080). When I hired Pete, I interviewed him in that radio station in a trailer somewhere in a Kissimmee swamp! Brought Russ Wheeler over to do our mornings. Larry King was with us...not the CNN guy, Jim Philips was in news. Richard King was our news director. Bill Bauman was in news. Gene Burns was with us...Frank Reed was with us...then went to WNBC-AM 660 in New York. Also at WKIS and I did the first all-night Grad Night broadcast from Walt Disney World. I went into TV fulltime in 1976-- now reporter/anchor (Larry Roberts) with WCMH-TV, NBC, Columbus, Ohio. Larry was awarded the Golden Microphone Award for "Best Live News" and "Best Spot News" as a newscaster in Southern California. Larry also has an Emmy to his credit for his "Live at Five" anchoring in Wilkes-Barre, PA where he worked with current WKMG-TV news anchor Lauren Perkins (Lauren Rowe).

Larry (Shannon) Roberts remembers Rebecca Randall. "... I did a morning show on WESH TV 2 in 1980 with Rebecca Randall...the most fun I think I've ever had in TV. Rebecca and I did an hour from 6 to 7 am...even danced on the air on one occasion. We were a couple that WESH had a hard time reigning in...BUT THE VIEWERS LOVED US..." "...Rebecca was one of the loveliest and nicest people I have ever worked with, in this business. We could hardly make it through the news reading portion of our show without laughing or going off the deep end..." " What a GAL!!"

In 2006 Larry left KREX TV in Grand Junction as anchor/managing editor. Larry is now semi-retired, but back in radio at KNZZ-AM 1100, Grand Junction, doing a daily talk/news show.

2008-Thanks to Pete Simonson for this update on Larry. From Pete's email;
"Larry (Shannon) Roberts is now out of Colorado TV and Radio all together. Earlier this year he retired (again) and moved to Nevada, Texas. When I exchanged e-mails earlier this year he told me he was "going to stay retired", but his wife had gotten a great job in the Ft. Worth area and because she had faithfully followed him around the country for years every time his jobs required a relocation, it was now his responsibility to do the same for her."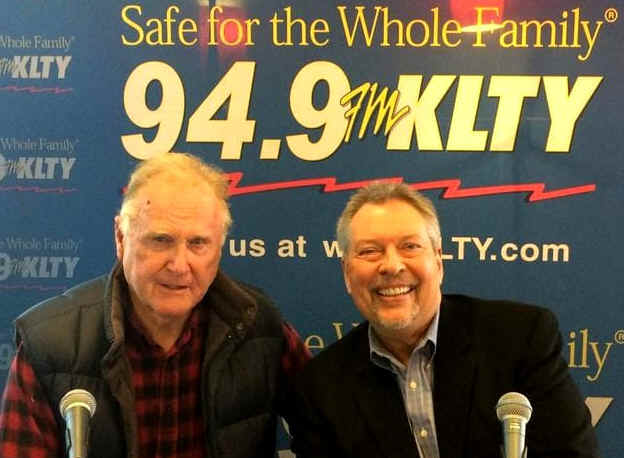 Here's Larry with Frank Reed in Dallas, Texas.