Peter King Biography

WNDB WWNZ CBS Radio Network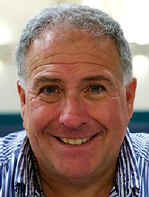 Peter is a 1978 graduate of Ithaca College in New York. He began his radio career at WHSH-FM in Albany. Peter also worked at WKLX-FM in Rochester, and WHEN in Syracuse, where he served for ten years as an on-air personality and program director. Peter was a reporter, anchor and then News Director. In 1994, he became the morning news anchor in Daytona Beach on WNDB-AM 1150. Bill Wathen was the News Director. He hired me as a part time reporter/anchor. Looking for more work Peter was hired by then WWNZ-AM 740 news director Wayne Trout. Some days Peter would be on the air at both stations; WNDB in the morning and WWNZ in the afternoon. Peter would handle the local news weekdays from 3 p.m. to 7 p.m. as the sole news anchor, and the rest of the day as a reporter on WWNZ. Peter has won five Florida Press Club Awards and two Florida Associated Press Awards since 1995 and is a past president of the Central Florida Press Club. Peter would become a "stringer" for CBS News as they had no correspondent based in Orlando. When Clear Channel bought WWNZ from Paxson in 1997, the entire news staff was fired. Peter was hired full time by CBS News and can be heard on the CBS Radio Network. He also has been primary reporter for CBS Radio's coverage of NASA space shuttle missions since 1996.

Congratulations To Peter King 3-17-17
CBS radio news man Peter King is being honored by the Florida Associated Press with the Florida Associated Press Broadcasters' LEGACY AWARD. The organization cites King's distinguished career and his service as a role model and his involvement with the AP Broadcasters' college workshop and more for this award. He will be honored at the awards ceremony in Orlando on Saturday, April 8, 2017.