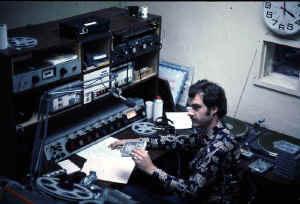 Wayne at WLOF as Tom Clark-"The Body Beautiful"
click photo for full sized view photo courtesy of Dick Camnitz
Orlando Sentinel March 31, 1983
Wayne Trout, WDBO-AM's news director for the past 6 1/2 years, resigned rather than be fired Tuesday, joining more than a dozen employees of WDBO and its sister station, WWKA-FM (formerly WDBO-FM), who have been replaced since Bridgeport, Conn.-based Katz Broadcasting bought the two stations nine months ago. Trout said Tuesday that he had expected to be asked to resign sooner or later and was in fact "glad" to be out of the atmosphere of uncertainty. What has been happening is the typical Aftermath of an ownership change, Trout says. "They (Katz) want their own people in there. It's normal." Trout also says that WDBO's management was planning a change in its news style. "I think they want more Rin Tin Tin journalism the blood and guts stuff." Trout hopes to find a comparable job at another local radio station but says that, one way or another, he will stay in Orlando, where he's lived 25 years. WDBO's new news director will be Wayne Weinberg, who is leaving a similar position at WMPS-AM in Memphis, Tenn. Operations manager Bob Adams, a recent arrival himself and the man to whom Weinberg will report, said Tuesday that the station's reporting staff will remain the same but that the approach will be somewhat different. "We'll have more on-air street presence," Adams says. "We'll be 'activating' our news department. We'll be where the news is happening."

Wayne Trout's Memorial Service
A Personal Reminisce by Pat Flannagan
Saturday June 25, 2005 we said goodbye to Wayne Trout on a muggy, hot day at Mead Gardens in Winter Park. Word of his passing had brought some 50 to 75 friends and colleagues to the amphitheatre. Some attendees I noticed and spoke to included Tom Conlee, Scott Harris, Dick Sollom, Reagan Smith, Lynn Levine, Bob Poe and family, Dick Batchelor, Diane Kiger, Bob Church, and Wayne Weinberg. Funerals in Florida are informal affairs anyway and an exit party for someone as laidback as the dear departed demanded casual clothing. Hawaiian shirts over baggy trousers, paisley ties over bright colored shirts and slacks were the norm and even Doris Trout, Wayne's mother, was a petite presence in blue flower print, sleeveless dress.
The service began with an air check edited by John Prince. Wayne's voice sounded over the warm morning in clips of talk shows, (including a scathing tirade against George Bush that surely offended any red staters present but had most of us laughing,) newscasts, and a final man-on-the-street interview that was of course with a woman.
Wayne's old friend, Bill Bauman, spoke first (in suitable flowered shirt) recounting a friendship that went back to Vietnam-era days when they were a sort of Hawkeye/Trapper John pair in the Army National Guard. Their ability to type apparently got the two in and out of scrapes frequently. It also helped get them into the media later. Bauman was the first to mention Trout's personal life, his wild parties and his rehabilitation efforts. Many an emotionally wounded man was given space on Wayne's couch and nursed back to confidence by his own life-loving exuberance.
Lee Garen, CNN overnight anchor, spoke next, reading an email from CBS reporter Peter King, on assignment that day in Aruba. King reminisced about Wayne's mentoring at WWNZ-AM 740, encouraging him to send feeds to the network and advance his own career. Garen also spoke warmly about working with Trout.
After a couple of other speakers, I went to the front myself. I must have seemed the lady in black in my dark jacket, loose pants and charcoal straw hat. I thought Wayne would have appreciated a dramatic look. I introduced myself and said I'd worked with Wayne at WDBO-AM from 1977-1979. "Somebody had to say it," I said. "The Wayne Trout Management Philosophy: It's All Bullshit." The attendees laughed."
I remember him coming back to the news room after some meeting with upper management where they'd want us to do something like slant our reports to their list of Hot Buttons instead of what we thought was news. 'It's all bullshit' he'd say to Reagan Smith and Dennis Moore, Tom Fallin and Jay Bortz, Warren Croke and Donna Kelley and me, but we've got to show them we're creative enough to pull this off.' And you'd feel a ripple go around the room because he knew the one thing we believed about ourselves was how creative we were. Because he knew us so well he could motivate us to do a difficult job.
"And then there was his personal philosophy. I remember him on Friday afternoons, walking out of the newsroom toward the big double glass doors of the old art deco WDBO building. He'd look back at us, grin and then call out 'Let's get naked!' I was proud to have known and worked with Wayne Trout."
Other speakers included Wayne Weinberg and Jim Phillips but the most memorable to me was his massage
therapist. She said she had known Wayne professionally and particularly recalled one Christmas eve. Surprised by his making an appointment on December 24 Trout waved off Christmas concerns as she went to work on him. When she was done she asked him about his Christmas shopping. Everyone in the audience who knew him well anticipated the answer. "Hey, I'm just going to ABC Liquor next." Wayne was no scrooge but he dealt with stocking stuffers in his own way.
About 12:15 the official service ended and some 30 or so participants moved on the clubhouse of the Park
West Condominiums in downtown Winter Park. The food was great, barbecue and salad and desserts all spread around photographs of Wayne. I'd never seen his bare upper lip before because it disappeared under his trademark bushy mustache after high school. From teen years to wild hair in disco era shirts, to later pictures Trout cut a fine figure.
After eating and gossiping and reminiscing that he would have approved of, groups of people dispersed to
the unofficial Wayne Trout exit parties, at least one at Fiddler's Green, almost certainly at PR's (Mexican Restaurant) and at whatever happened to the old Harpers. At all those locations glasses were raised and toasts made to our old friend and colleague, Wayne Trout.
He would have approved of that most of all