WCFB-FM 94.5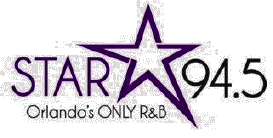 Daytona Beach


| | |
| --- | --- |
| Network Affiliation(s): | ABC |

Throwback Hip-Hop and R&B Comes to Orlando 11-26-14
WCFB-FM 94.5 Program Director, Michael Saunders has told All Access;
"We tweaked, Star has been a ratings and community leader in Central Florida. Today is such an exciting day for Star 94.5 and our team. This evolution will help continue Star's dominance in the Urban and overall market. We're staying true to who we are while updating the format." "The Tom Joyner Show" has been dropped from the schedule.

Star 94.5 Backtracking 12-5-14
After listening to the negative comments from listeners, WCFB-FM 94.5 has returned current and older Urban titles to the playlist. Star has rebranded once again; "Today's R&B and Throwbacks".

"Star 94.5" Personalities