WWLV-FM 94.5

Daytona Beach


Original Call Letters: WNDB
Originally Licensed: Mar 1947
Original City of License: Daytona Beach
Original Frequency: 94.5
Origin of Call Letters: Slogan; "LoVe 94.5"
Original Power: 100,000 Watts
Original Location:
Original Format: Beautiful Music

Owner(s):


1948-News Journal Corp.
1972-Quality Broadcasting, Inc.
1977-Broadcast Management Corp.
1982-Root Communications
1992

-

New City Communications
1996-Black Crow Broadcasting, Inc.

1997

-

Cox Broadcasting

History Of Call Letters and Formats:


WNDB-1948-Beautiful Music
WDNJ

-1972

-Beautiful Music

(

Bonneville's "Just Beautiful Music")
WWLV-1988-Soft Adult Contemporary ''Lite 'n' Easy Love Songs"

WWLV

-

1990

-

Adult Contemporary "Love 94.5"

WCFB

-1992-Country

"B94.5"

WCFB

-1995-Urban Adult

"Star 94.5" "Star 94 Today's R&B and Classic Soul"

History of WWLV
From Marc Tyll
The format on 94.5 from the time is was WDNJ and WWLV was Beautiful Music until around 1988. They were using Bonneville's "Just Beautiful Music" automated music service while WDBO-FM 92.3 had the exclusive rights to air beautiful music from Jim Shulke ("The Godfather" of 'Beautiful Music Radio'). In 1988 "Love 95" , as it was known when the WWLV call letters replaced WDNJ, was renamed to "Love 94.5" to better reflect the digital readout of the actual 94.5 frequency. The station was also reformatted with soft adult contemporary love songs which remained on WWLV until about 1990 when the format became more mainstream adult contemporary with a leaning towards hot adult under the direction of program director Steve Kelly.

1992-New City Communications, the owner of WDBO-AM 580 and WWKA-FM 92.3 in Orlando, announced it would acquire the air time of WWLV-FM of Daytona Beach and has purchased an option to buy the station's other assets, including its operating license. Acquisition of WWLV-FM's air time would be accomplished under a local marketing agreement with Root Communications, owner of the Daytona Beach station. Under the agreement, NewCity would take over production of programming and sale of air time to advertisers. The agreement was to take effect between Sept. 15 and Oct. 1. The format of would be shifted from adult contemporary music to country. Plans were for all WWLV programming except public affairs programs would be produced at NewCity's Orlando studios.
Dave Matthews
(David Hesselink)
In
Memory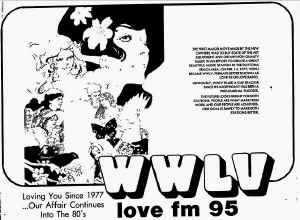 1981 Ad from the Daytona Beach News Journal
click image for full sized view
WWLV Love 94.5 Love Songs Club Card