Born in Lake Wales, I later attended Father Lopez High School (Class of '65) in Daytona Beach, where one of my classmates Charlie (Chuck) Conlon formed a band called The Nightcrawlers, who had a hit with the 1965-1966 novelty song, "The Little Black Egg". My first job in broadcasting was hosting "Golden Notes", an afternoon big band and classical music show (for free, to gain experience) at WRUF-FM 103.7 in Gainesville in 1965-1966 while attending the University of Florida School of Journalism and Communications. During the summer of 1967 I got my first paid job overnights on "The Night People Program" at WMFJ-AM 1450, "Fun Radio", where I was a top-40 "Good Guy" disc jockey. The studio was in the basement of the oceanfront Daytona Plaza Hotel and when you had to use the bathroom, you put on a long-playing record, ran upstairs to the cocktail lounge one-toilet men's room and hoped and prayed there wasn't a drunk in there with the door locked! After earning a degree in 1968 from UF, I had an afternoon shift hosting "Music with a Touch of Velvet" at WROD-AM 1340, "Home of Daytona's 24-HOUR News Bureau". Later that year, I went on to announce for WTOC-AM-FM-TV (CBS Channel 11) in Savannah, becoming the weathercaster there from 1972 to 1978. When that station was sold, I did the same at WECA-TV (ABC Channel 27) in Tallahassee, in 1979. As the newer station in town, our slogan was "27 Up & Coming!" After they changed management, I returned to my hometown of Lake Wales, doing a weekend air shift in 1980-1981 at WIPC-AM 1280, and during a portion of the early 1980s, sold air time for WZNG-AM 1360, Winter Haven.
In 1983, I moved on to host an interview show "Centel Spotlight" for Centel Cable Television of Florida and in 1985 became the entertainment reporter for The News Chief, Winter Haven.
Along the way I have had the pleasure of working with or doing interviews with The Ink Spots, The Platters, Bill Haley's Comets, The Shirelles, The Del Vikings, The Diamonds, Dee Clark, Fabian, Elvis' stepmother, Dee Presley, Tiny Tim, Chubby Checker, Engelbert Humperdinck, Helen Cornelius, Jeannie C. Riley, Billy "Crash" Craddock, Sawyer Brown,
Exile, Michael W. Smith, George Gobel, Jerry Mathers ("Leave It to Beaver"), Bob Denver ("Gilligan's Island"), Mary Ann Mobley, Gary Collins, Donna Douglas ("The Beverly Hillbillies"), Linda Kaye Henning ("Petticoat Junction") and JAYNE MANSFIELD!!!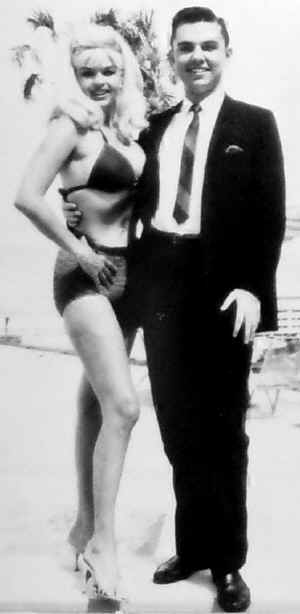 Dan Hogan with Jayne Mansfield
at promotion for
Quality Inns International
867 S. Atlantic Ave.
Ormond Beach, FL
May 9, 1966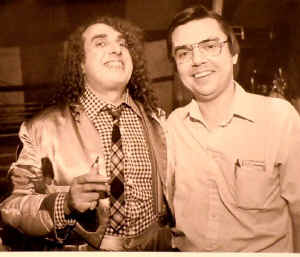 Dan Hogan interviews Tiny Tim at the Great American Circus in Winter Haven, FL
November 13, 1985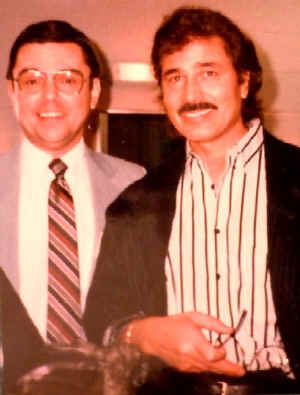 Dan Hogan with Engelbert Humperdinck
backstage at the Ocean Center
Daytona Beach, FL
January 22, 1988