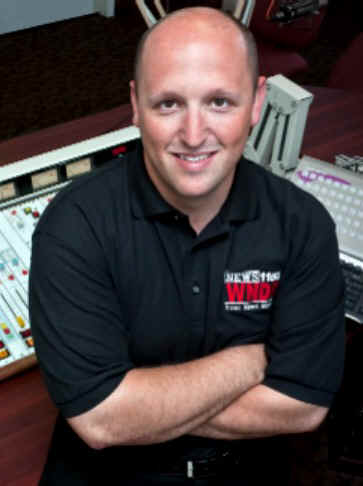 Greg Blosť originally from the Philadelphia area came to Daytona Beach in 2000. Greg attended Vance Tyler's ACI Broadcasting School there. Greg began as an intern with the Dave and Kelly Morning Show. Next Greg would accept another internship with Black Crow Broadcasting's Promotions Department. Greg would become a weekend Producer/Audio Board Operator with WNDB-AM 1150 / WNDA-AM 1490. He was producer for various programs on Saturdays and Sundays, including Marc Bernier's "Weekend Around The House", and "The Jewish Sound", the number one Jewish Radio Show in Volusia and Flagler Counties. In addition to producing, Greg did weekend news, sports and weather. Greg has also done on-air shifts and board work at Black Crow sister stations WVYB-FM 103.3, WHOG-FM 95.7, and WKRO-FM 93.1.
In an email from Gregg; "I have replaced Dr. Joy Browne on the programming line-up, and currently do my show during 10am-12noon time slot. The name of the show is, "The Bottom Line With Greg Blasť". The content is news and current events, and we receive many phone calls. My past with WNDB is weekend board-op, to Marc Bernier's Producer, to Talk Show Host. I've been producing Bernier's show for the past 2 years, and have been working at WNDB for the past 4 years. Also, I do work on our sister station WHOG-FM, as a weekend personality."

4-4-05
"The Bottom Line with Greg Blosť" was moved from 10AM-12PM to mornings from 6AM-9AM on WNDB / WNDA about 8 months ago. From that point on, the show did well. Greg was doing news/politics/current events in the mornings with telephone calls/new/traffic/weather. When "the book" came out it showed ratings went up 1/3 in his day part and 100% over the previous year. About a month later, management pulled Greg into the office and told him they didn't want this type of show on in the morning (hard core news/controversy), so they cancelled the show and put veteran Dave Laing back on in the mornings. They made Greg a co-host with Dave. Then Greg received an offer to get into politics and government full time. Greg was the producer of the "Marc Bernier Show" for almost 2 years before getting his own program. Marc and Greg made a great team and were really successful together. Together they managed to get Marc appearances on Cable News Channels as one of those "talking heads" as well as appearances on Fox's "O'Reilly Factor", MSNBC's "Buchanan and Press", CNN's "Talk Back Live", and "Showdown: Iraq" with Wolf Blitzer. Greg was also responsible for getting Marc some big interviews like Secretary of State Donald Rumsfeld, Chairman of the Joint Chiefs of Staff Gen. Tommy Franks, Gov. Jeb Bush, Senator Bob Graham, and others. Greg has left broadcasting and joined the Volusia Home Builders Association as their Director of Government Affairs. Greg said: "...I'll always miss radio, but it was a great ride. People say I shouldn't count myself out of radio...but I know how hard it is to break back in. Besides, I'm loving living on the other side of the newspaper"!

"As of May 16, 2009, I am the CEO of the Volusia Building Industry Association (formerly the Volusia Home Builders Association)." The VBIA is a professional trade association with 340+ business members in the Volusia County area.