Mike Burger Biography
WJPB WHOO WDBO WCPX-TV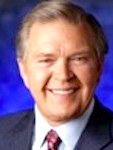 A native of Iowa, Mike served in the United States Air Force before accepting his first on-air role, in 1970, which was an unpaid news announcer position at WJPB-AM 1220 in Kissimmee. In 1972, he was hired at WHOO-AM 990, Orlando, where he handled mid-days for nine years and was later named Music Director and in 1978, Program Director. During his time at WHOO, Mike also became a member of the board of the Country Music Hall of Fame, which afforded him the opportunity to meet industry legends such as Willie Nelson, Waylon Jennings, Barbara Mandrell, Eddie Arnold, Tom T. Hall and many others. Mike moved over to WDBO-AM 580 in 1981, hosting the mid-days there. TV station WDBO (channel 6) needed someone to take over the weekend weathercasts. Mike left radio for WCPX-TV (now WKMG) in 1988. Before long, he had made friends with the local forecasters at the National Weather Service station in Orlando. He would spend hours with them, sometimes all night, as they taught him to read, understand, and analyze the weather programs. They also gave Mike assignments to prepare his own forecasts and justify them. Mike's greatest mentor was retired Air Force meteorologist George Mowris. He still carries the AMS pin George gave him after Mike received his seal. Mike eventually finished his hours through the Mississippi State meteorology program, then moved to Dallas where he worked at for seven years. He returned to Orlando for four years, then moved back to Dallas and joined the CBS 11 News team. He returned to Central Florida from Houston in 1996 to replace retiring newscaster Ben Aycrigg. After four years, Mike returned to Dallas-Fort Worth and landed at KTVT 11 in Dallas/Ft Worth. In March of 2010 Mike celebrated 40 years in the radio/TV business.


Aug. 2010-Mike announced his retirement. Mike's last weather segment will be Sept. 4th. He said he plans to remain in North Texas.