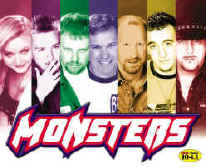 Russ Rollins was meant to be on the radio. As a child he would sneak a transistor radio under his pillow at night and listen to AM talk radio. He was thrilled when he got a chance to job shadow a DJ at the WBJW-FM 105.1. When Russ graduated from Edgewater High School, he went into the rental business, like his father. He and childhood friend, Will "Bo" Rhodes opened Rollins Rental Party World on Edgewater Drive, in Orlando. In 1993, a salesperson from what was then WGTO-AM 540 walked in told them they could have their own radio 1 hour radio show for $100 a week. "Party Talk with Russ & Bo" was born to promote their College Park business and ran on Saturday mornings from 6AM-7AM. After the first week, Russ' brother-in-law "Dirty Jim" Colbert joined the Russ and Bo Show, becoming "The Russ and Bo Show with Dirty Jim". Sales reps from WTKS-FM 104.1 talked Russ into paying for time over on the FM dial. Russ and Bo with Dirty Jim did both shows. By February, 1995 "The Russ & Bo Show with Dirty Jim" garnered enough of a following on weekend mornings that WTKS management wanted to give it a more regular gig. They would replace Bill Cross in the 7PM-9PM Monday-Friday time slot. In September, 1995, the show was expanded to midnight with the cancellation of "Passion Phones". Along the way the show added Burt "Bubba Whoop Ass" Wilson and Jeff Howell. In 1996 Rollins decided he needed a female point of view for the show. He met The Sexy Savannah (Heather Boan) and invited her to be a guest on the show. She began with appearances three times a week. Also in 1996, fire destroyed the Rollins Rental Party World store. Rollins lost thousands because he didn't have insurance.
By 1997, mid-day talker Ed Tyll decided to head to the west coast for a stint at KABC-AM 790, The Russ & Bo Show with Dirty Jim moved to fill the midday slot vacated by Tyll. The show was renamed The Monsters of the Midday. In 1998, E.T., "Brother Man From the Other Land'' is fired after lying about how the Polk County Sheriff's Office detained him along I-4 during a racially motivated traffic stop, which turned out not to be true. Producer Rich Kennedy, known as "Fluffy" on the midday Russ & Bo Show, leaves 104.1 work as overnight jock at sister station WMGF-FM 107.7. "Dafoe" (Thomas Carley) replaces Rich Kennedy as producer. Dafoe moved from Erik Dennison's overnight program back to The Russ and Bo Show with Dirty Jim", where he once worked as an intern. 1999 was a rough year for the Monsters. Bo Rhodes, Russ' longtime friend and co-host, was asked by WTKS management to enter rehab for an alleged drug and drinking problem. Bo refused, and left the show. "Dafoe" was fired after being arrested and charged with lewd and lascivious assault on a 13-year-old girl he met through his job at the station. On the bright side, the show picked up Daniel Dennis, formerly with "The Drew Show (Drew Garabo), and Blackbean, an intern, as producers as well as Tuddle. When The Howard Stern Show was taken off all Clear Channel stations, The Monsters took the morning slot. The Monsters in the Morning had a rough start, with low ratings in its first year. In addition to being on XM Satellite radio the show was unsuccessfully simulcast in several other markets, including West Palm Beach, Jacksonville, Naples, Tampa, as well as Macon, GA, and Jackson, MO. It was eventually canceled in all other radio markets.
In January of 2005 Jeff Howell announced that he would not be returning to the show. Later in the year, The Sexy Savannah unexpectedly left The Monsters for The Shannon Burke Show; she was terminated February 6, 2006. That same year "Bubba Whoop Ass" Wilson spent several months in rehab for alcohol and drug dependency issues. Russ searched for new talent: Drunky the Bear was added and Tiffany, a "Shape Up" contest winner, has succeeded as the new "Monster Chick". In August of 2007 "Blackbean" (Carlos Navarro) left the show for undisclosed reasons. Recently Jeff Howell has been appearing on the show on Fridays.
Other members along the way included "SBK"- Soul Brother Kevin (Kevin Caswell) who now co-hosts the Shannon Burke Show.



2009-Bubba "WhoopAss" Wilson was fired in the latest Clear Channel purge



2009-Bubba "WhoopAss" Wilson joins "Batten Outdoors"-10AM-Noon-Saturday on WYGM-AM 740



Jan. 2010-Tuddle was fired by Clear Channel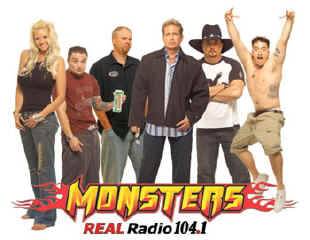 Savannah, Daniel, Dirty Jim, Russ, Bubba and Blackbean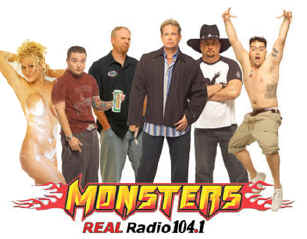 Tiffany, Daniel, Dirty Jim, Russ, Bubba and Blackbean