WAMT Personalities



Susie Fennelli-1977-1978-Advance Communications



John Martin-1981-Brevard Broadcasting Co.

Bio

graphy
Rita Michaels1981-1983
Scott Stover-1984-Ogden Broadcasting

Bio

graphy


Lourdes Passalacqua-1989-Mornings-Angel Bocanegra Ownership
Lourdes Contigo-1990-M-F-10-Noon-Angel Bocanegra Ownership



Greg Sherlock-1992-General Manager/News Director/2000-General Manager/News Director-Radio Brevard, Inc/Genesis Communications I
Karen Kay-1992-Radio Brevard, Inc.

Bio

graphy



Charles Tyler Atkeison-1995-1997-Space and science reporter Charles covered both shuttle and unmanned launches live on the air, and hosted a twice daily show, "KSC: Up to the Minute"



Mike Boguslawski-1996-Mornings 6AM-9AM/General Sales Manager (former consumer reporter at WESH-Channel 2)-Radio Brevard, Inc. In

Memory






Sal Tee (

Salvatore Taglireno)-1996-"Solid Gold Reunion"-7 PM-10PM, Sundays-Radio Brevard, Inc.



Connie Fishbaugh-1997-2000-"Town Talk"/General Sales Manager-Radio Brevard, Inc.
Ed Dean and Brent Mack-1998-Ed and Brent produced a live, political "Weekend Show". In 1998, the show added Gerald Lostutter (a.k.a. "The Lost Man")
Gary Zajac-1999-"It's All the Blues"-Spinney Broadcasting Corp.
Nina Gold-2000-Genesis Communications

Don Gould
Bio
graphy
Patrick Dollins-Fri overnights/Sunday afternoons/Board Op-Radio Brevard, Inc
Alan Thompson
Charlie Liles
In
Memory

Other Names in WAMT History
Angel Bocanegra-1989-Owner




Rene Plasencia-1989-General Manager Angel Bocanegra Ownership
Eugene Sego-1992-CEO-Radio Brevard, Inc.




Bruce Maduri-2000-CEO-Genesis Communications I
Sandra Culuer-2000-Operataions Director-Genesis Communications I
Edward Destler-2000-2004-General Sales Manager-Genesis Communications I
Jerry Smith-2000-Chief Engineer-Genesis Communications I
Steve Potter-2004-General Sales Manager-Genesis Communications I
Allen Davis-Vice President of Programming-Genesis Communications I
Bobby Gray-Operations Manager/Chief Engineer

Other Programming In WAMT History
SportsAmerica Radio Network-10 to midnight nightly



Don Imus-1998-Syndicated

In

Memory
"The Money Pit"
-
2012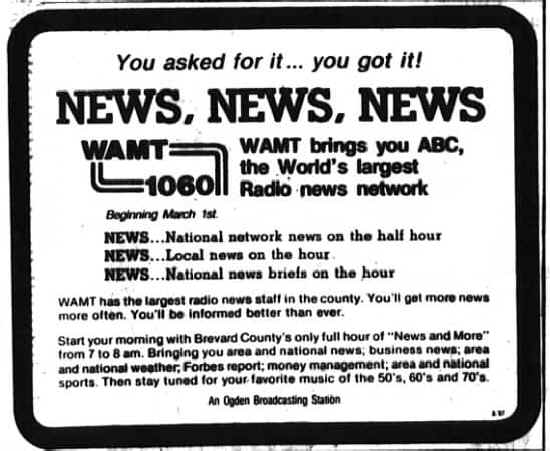 1984 Florida Today