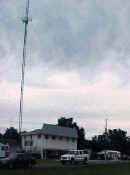 The studios and tower of WELE on highway 17-92 in Deland

History of WELE
WELE-FM began as WOOO-FM;
Mr. Brian Tolby, former owner of WSBB-AM 1230, New Smyrna Beach, fills us in on the history of WDLF. "...That station was to be a Winter Park FM, WABR(-AM 1440), owned by the Petersons who also owned Peterson Outdoor Advertising in Orange & Seminole counties, who were sitting on an FM permit. I filed to move it to Deland and it went on the air in l965. I sold that station in l976 to Joe Gratz who owned WELE AM (1380) and he changed the calls to WELE-FM..."


In 1986 after the purchase by American Media, WELE began broadcasting from a 1,650-foot tower in Orange City and operated at 100,000 watts, enabling it to reach from Daytona Beach to Tampa.