Bill Barber Biography
WFIV WSLC WJPB WVGT WLOF WBJW WWKA WSHE WEBG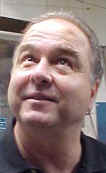 Bill Barber would begin his career in 1966 at age 15 at WFIV-AM 1080 in Kissimmee. Then it was on to WSLC-AM 1340 in Clermont, WJPB-AM 1220, then WVGT-AM 1580 in Mount Dora. Bill joined the staff at WLOF-AM 950 in 1971 at the ripe old age of 16 and known as "Billy The Kid". Bill would join WBJW-FM 105.1 in 1975, doing mornings, then Bill became the program director for the station. Bill would also spend 11 years at WWKA-FM 92.3 "K92FM". Then on to "Big 100" WEBG-FM 100.3. Bill lives in Orlando and is retired from radio.