WBJW History
1973-Rounsaville Broadcasting based in Atlanta, signs-on WBJW-AM 1440 and FM from a small studio near the Dubsdread Golf Course in Orlando. The broadcast tower was located off of Turkey Lake Road near (the as yet to be built) Universal Studio's Florida.

1974-WBJW-FM decides to take on Orlando's Top 40 powerhouse WLOF-AM 950 under the guidance of Jerry Peterson, Tom West and M.F. Kershner. The slogan "BJ105" came from the owner Robert Rounsaville's wife Betty Jane Rounsaville.

1976-"BJ-105" continues to dominate Orlando radio, taking the number one spot in the ratings, and would stay there for many years.

1980-"BJ-105" buys WLOF-AM 950 and it's sister station WLOQ-FM 103.1. WLOF is retained. WPRD-AM 1440 and WLOQ-FM 103.1 are sold off separately due to government regulations at the time that allow only one AM and one FM station to be owned by the same person, in the same city at one time.

1982-Nationwide Communications purchases "BJ-105" and WLOF-AM 950 from Rounsaville Communications. "BJ-105" relocated it's tower to Christmas, FL. The tower was built by WOFL-TV Channel 35.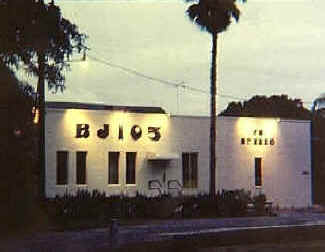 From Dave Edwards "...here's a night shot of BJ-105 located at 222 Hazard Street, same location as all (or most I guess) of the stations on 1440...That would be WABR and on through the years..." "... The parking lot was in back of the building. The new addition to the building is where the "FM Stereo" sign in the picture is located and was completed around 1977?..." "...There was a window to the front of the operator in the control room with an easterly view, if you could call it a view since in looked into the hedges of the neighboring house. In the picture we are looking N.N.E toward the area where Fairbanks goes under I-4. After the addition to the building the window remained in place and looked into the program directors office :-) Back then, management had a great sense of humor or budget."

WBJW Personalities



Steve Craig (Steve Biddle)-1973-Morning Drive-American Home Stations, Inc.



Steve Mitchell-1973-1974-Overnight News/On air for both WBJW-AM and FM-American Home Stations, Inc.


Fred Bradshaw-1974-News-American Home Stations, Inc.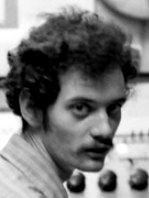 Terry Long-1974-1982-Music Director/Noon-3PM-American Home Stations, Inc./Rounsaville Radio In

Memory




Bill Barber

-1975-Program Director/7PM-Midnight

-American Home Stations, Inc.

Bio

graphy
Joe West-1979-1981

-

Nationwide

Communications


Bill Gardner-1980-Program Director/Mornings
-
Rounsaville Radio



Rooster Rhodes-1985-1986-Mornings-Nationwide Communications



Crystal (McKenzie)-1985
-Middays-Nationwide Communications



Cat Summers-1985-Nights-
Nationwide Communications



John Martin-1985-Overnights
-
Nationwide Communications



Tracey Young-1986-Mid-Days/"Community Tapestry"-Nationwide Communications Tracey at WBJW

courtesy of Ellis B. Feaster


Bill Cross-1986-"The Breakfast Bunch" -Nationwide Communications


Bill Cross talks about the final day of "BJ105"
photo and audio courtesy of Clive Hayward



John Summers-1986-1989-Nights/1988-Host of ''Affection Connection''-Monday-9PM-Nationwide Communications Biography
Debbie & Dan-1986-Nationwide Communications
Terry Foxx-1986-1988-Overnights-Nationwide Communications

JJ McKay
Bio
graphy



Alan Spector-"The Breakfast Bunch"

Bio

graphy





Carren Sheldon

-"The Breakfast Bunch"

Dennis Winslow
-Program Director
Bio
graphy
David Wright-Music Director/Promotions Manager
In
Memory
Chris Glendon
Terry Allen
Mitchell Stone-6AM-10AM

Dave Edwards
-3PM-7PM
Bio
graphy
B. J. Harris
Rick Stone
Ron Courtney-Midnight-6AM
Mike Creiger
Fast Freddy


Kevin Casey-Assistant Program Director/Afternoons
"Broadway Joe" Hirsch
Larry Jackson
Steve Michaels
Roy Adams-Traffic





Ken Dixon

-

Production Director
Charlie Steiner
-Sports
Scott Walker
Travis McKay
Jonathan Hart
-Weekends
Brad Jeffries
Terry Ross
Tom Collins
Steve Fluker
Jerry Peterson
Bill Thompson
In
Memory
Jeff Beeching
-Junior Achievement Intern

John Martin
Bio
graphy
Bob Benjamin (Robert Peterson)



Darrell Hammond


CJ Roquemoore (Curt Creel)-Weekends
Lee Simpson (Al Gardner)-News
Dave Matthews
(David Hesselink)
In
Memory