Ben Taylor

Daytona Beach News-Journal
Former WESH host, Ben Taylor, 82
November 13, 2004
On a CBS affiliate in Richmond, Va., young Ben Taylor introduced many of the music stars of the day -

Arthur Godfrey, Patti Page and country music legend Hank Williams. That job back in 1947 started him on a lifetime career in radio, television and motion pictures. Taylor, a longtime Daytona Beach resident who appeared on area television stations and as a radio personality, died Nov. 6 at Baptist Hospital in Miami. He was 82. Taylor, a native of Roanoke, Va., had a lifelong love affair with Florida and migrated here in the early 1950s to work in broadcasting, said his son, Roderick, a California screen-writer and former resident as well. His father claimed the title of being the first disc jockey on the CBS network then. Here, he worked with radio stations

WNDB-AM 1150, WMFJ-AM 1450,

WROD-AM 1340

and WQUX, which he helped found. For many years, he appeared on WESH-TV, hosting and producing several programs, including "Outdoors with Ben Taylor." His work in conservation earned him the Governor's Conservation Award. In addition to working in broadcasting, Taylor also appeared as an actor in several films and televisions series, including "Route 66" as well as a feature film about the Cuban expatriate movement. "Over the years, with his rich and distinctive voice, he narrated ads for numerous national advertisers, the state and national government, including the U.S. Army and Voice of America," said his son. Taylor was a former sergeant in the Marine Corps. Moving to Miami in the 1980s, Taylor enjoyed dancing and singing with his rich baritone, said Roderick Taylor, of Sherman Oaks.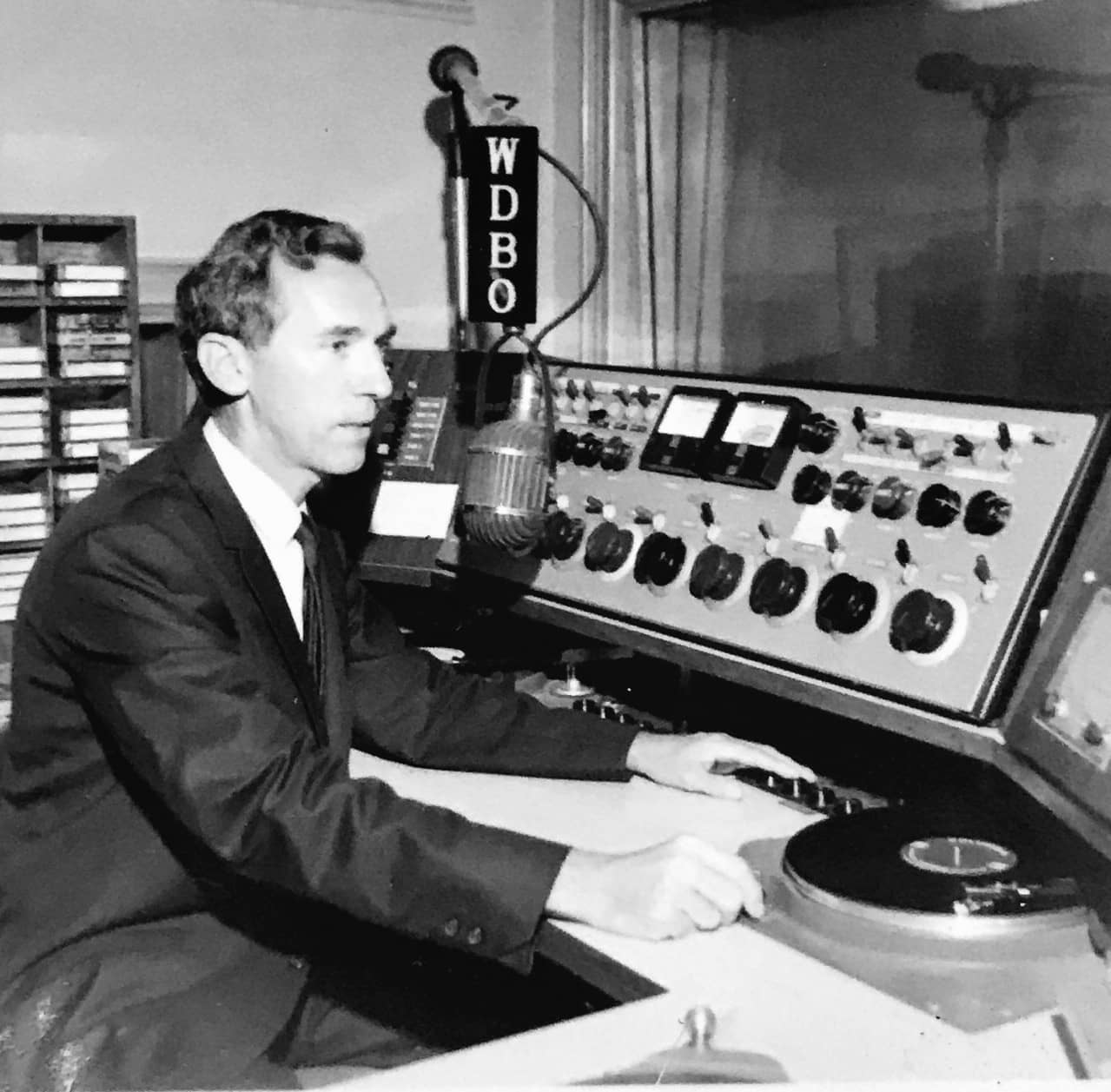 Bill Taylor
Orlando Sentinel from Mar. 2, 2021
Willard Carl "Bill" Taylor, a popular morning radio and TV personality in Orlando in the 1960s and early 1970s, has died at age 92. He left WDBO radio and Channel 6 TV to return to his native North Carolina to manage a station in Charlotte. After his 30-year broadcasting career, he opened a real estate brokerage and construction business. But Taylor missed Central Florida, and he returned to retire and to wed a onetime neighbor, Orlando native Ethel Parker Creson. They observed their 30th wedding anniversary last Spring, and most recently resided in Clermont. The picture shown here is Taylor, at his 90th birthday party, with great-granddaughter Bayleigh Riffle. Survivors include Bill's beloved wife Ethel, with whom he attended services at the Clermont chapel of the Church of Jesus Christ of Latter Day Saints. Also surviving are Bill's son Tom Taylor (who followed him into the broadcasting business) and his wife Sharan, of Ewing, NJ. And daughter Denise Taylor Malmberg (retired from Wells Fargo Insurance Services) and her husband Carl, of Lake Wylie, SC. Surviving family in Florida includes Bill's daughter-in-law Linda Creson of Montverde. (Linda's late husband Jeff Creson was the principal of Auto Electric Co. of Winter Garden.) Granddaughter Jennifer Creson Riffle and her husband Bob Riffle, of Groveland. Their daughters Bayleigh and Gracey. And grandson Zachary Creson of Stuart, Florida. Taylor's prominence in radio opened up other opportunities, such as emceeing air shows and beauty pageants, and even donning an Air Force uniform to film training videos. On the opening day of Disney World in 1971, he combined two of his passions - aviation and broadcasting - to offer live traffic reports. Bill Taylor's family thanks his recent caregivers at South Lake Hospital in Clermont, Health Central Hospital in Ocoee, Winter Garden Rehabilitation and Nursing Center, and the hospice specialists at Vitas Healthcare.

Thelma Tharp
Thelma Tharp a very independent, senior advocate passed away on April 25, 2008 after suffering from an infection. She was 97. Thelma retired to Winter Park in the late 1980s and became the voice of seniors on her radio show called "Senior Networking" which ran on both WHOO-AM 990 and WWNZ-AM 740. Thelma did her own marketing and found her sponsors during her eleven year run on Central Florida Radio.
Bill Thompson
Bill Thompson, longtime reporter for WDBO-AM 580, died Tuesday of heart failure. He was 60. Bill retired from WDBO in 1995 after suffering a heart attack on the job Aug. 31. News staff members who performed cardiopulmonary resuscitation on Thompson likely saved his life that day. WDBO news director Marsha Taylor said Thompson was admitted to Florida Hospital with heart problems earlier in July of '96. He came to Orlando from Miami more than 20 years ago and was a disc jockey for many years at WBJW-FM 105.1. In 1984, he joined WDBO and covered Orlando City Hall for many years. People knew him as ''the commander,'' Taylor said, because ''he took charge.'' In 1993, Thompson won the radio reporter of the year award from the Florida Associated Press. ''Everything he did was beautifully produced,'' Taylor said. Thompson, who lived in Winter Park, is survived by his wife, Alfreda, and his father and a sister in Louisiana.
Murray C. Tillman Sr.
The Stuart News Sunday, Jan. 31, 1999
FORT PIERCE - Murray C. Tillman Sr., 84, of Fort Pierce died Sunday, Jan. 31, 1999.
A native of Kinston, N.C., he lived in Fort Pierce since 1946. He co-owned the original WARN radio station, now WJNX-AM 1330, in Fort Pierce and owned WRGR-AM 1490 in Starke, Fla. After selling WRGR in 1963, he worked for the Postal Service in Fort Pierce. He was in the Army Signal Corps in the European theater during World War II, fought in the Battle of the Bulge and was awarded a Bronze Star. He was a member of the Rotary Club of Fort Pierce and Kiwanis Club of Starke. Survivors include his wife of 53 years, Olympia; a daughter, Joanna Tillman Nevins and husband Robert C. of West Palm Beach; three sons, Murray "Bud'' Tillman Jr. and wife Vicky, David Tillman and wife Sue, and Frederick "Fred'' Tillman and wife Pam, all of Fort Pierce; a sister, Dorothy Wasdon of Fort Pierce; three brothers, Dewey Tillman of Sanford, N.C., Claude C. "Sprucy'' Tillman of Fort Pierce and Thomas N. Tillman of Valdosta, Ga.; and five grandchildren. Friends may call from 6 to 8 p.m. today at Roger L. Byrd Port St. Lucie Funeral Home. A funeral service will be at 2 p.m. Wednesday, Feb. 3, at the funeral home chapel. The Rev. Clark Thompson will officiate. Burial will follow in Riverview Memorial Park, Fort Pierce.
Martin Timmer
Published in Daytona Beach News-Journal on March 7, 2010
Martin J. Timmer, Jr., age 92, died on March 4, 2010 at Wellington by the Sea. He was preceded in death by his parents, Martin and Marie Timmer, also, brothers, Arthur and Bill Timmer. He will be lovingly remembered by his wife of 33 years, Geraldine (Geri) Timmer; daughter, Nancy Rodriguez; son Martin; four grandchildren; stepdaughter, Laura Brugnetti; and sister, Anne Higgs. After graduating from Hope College he served 4 years in the Army during World War II. He retired from the H. J. Heinz Company after working 30 years in Chicago as District Manager. After retiring he later worked for

WSBB-AM 1230

in the sales department. He was an avid golfer and a member of Tomoka Oaks Country Club. Memorial donations may be made to Florida Hospital Hospice, 770 W. Granada Blvd., Suite # 304, Ormond Beach, FL 32174.

David Titterington
Glens Falls, NY
David W. Titterington, age 59, passed away unexpectedly on Saturday, May 12, 2012 at his home. David was more commonly known as Rick Knight from the "Knight In The Morning Show" on WNYQ-FM 101.7 in Glens Falls, NY. Dave was midday air personality and Program Director as Dave Williams at WTMC-AM 1290Ocala and at WDOQ-FM 101.9, Daytona Beach when he worked afternoons and was also program director as Rick Knight in the early 80s. Dave Williams became Program Director and afternoon personality in 1979 at WOKB-AM 1600, transforming that station from "black" to all disco as "Disco 16" under the new ownership of Lesli Broadcasting. Dave opened a tanning salon in Ocala called "Papa Tan" which was short lived. He returned to WTMC-AM 1290 in late 1980 for a second run, replacing Marc Tyll in afternoon drive when Marc left for WGGG-AM 97.7. David was the son of the late Frederick and Dorothy (Janssen) Titterington. He was born on March 2, 1953 in Sandusky, Ohio. He graduated from South Glens Falls High School in 1971 and attended classes in Radio Broadcasting at SUNY Adirondack (formerly Adirondack Community College), and then went on to receive his first class broadcaster license from the Elkins Institute in Connecticut. He was in the broadcasting business for over 40 years. When he was not working, David played guitar in a local band, The Bodells, and was a loyal fan of the Beatles. He was also an avid motorcyclist and owned both Honda and Harley Davidson motorcycles. Survivors include his brother, Daniel Titterington and his wife, Linda, of Queensbury, and their children Maura and Patrick; his sister, Donna Lukach and her husband, John, of Shrewsbury, MA and their children Michael and Kristina; and his very dear and special friend. Nancy (Rockwell) Murphy of Glens Falls.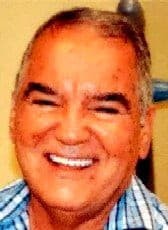 Jesus "John" Torrado Passes 12-10-20
Thanks to Leo Vargas for letting us know of the passing of Jesus "John" Torrado (founder/owner of J&V Communications Inc., which runs WPRD-AM 1440, WOTS-AM 1220, WSDO-AM 1400, WTJV-AM 1490 and WUNA-AM 1480) passed away on Tuesday, December 8th. Jesus "John" Torrado was born on May 27, 1941. Deltona Memorial Funeral Home is in charge. A Private Family Celebration of Life will be held.

Wayne Trout Passes
Wayne Trout a fixture of Central Florida radio for over 30 years has died in his sleep on Friday, according to WTKS-FM 104.1's Jim Philips. Wayne was 56 years old. Details will follow as they become available. Jim Philips notes "...Many men and more women will mourn his passing." Read Wayne Trout's Memorial Service; A Personal Reminisce by Pat Flannagan.
Veteran broadcaster passes
Scott Maxwell
Orlando Sentinel Taking Names Column
Wayne Trout, a 30-plus-year veteran of Central Florida's airwaves, tragically surprised his mother, radio peers and legions of listeners when he unexpectedly died last week. "He was his jolly old self," Doris Trout said of her 56-year-old son. "He just went to bed, and then he died." Trout worked as newsman, anchor and news director on myriad stations, including WDBO, WTRR and WKIS. While Trout's on-air persona was known by the masses, those who knew him said it was his off-air personality -- his love of life, partying and his willingness to take in the forlorn -- they remember most. "He was one of the originals," said afternoon talker Jim Philips, who both competed against and worked alongside Trout through the years. "If you or your buddy got a divorce or dumped, you could stay with Wayne. And he would turn 'em around in a couple of days." Though Trout wasn't working in the hardscrabble business when he passed, his mother said it was still in his blood. "He started out when he was 18, and he never really got out of it."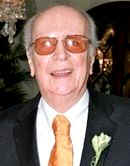 Theodore "Buddy" Tucker
Published in The Birmingham News on Dec. 20, 2017
Theodore "Buddy" Tucker, 90, of Mobile, AL and DeLand, FL, passed away on December 16. He was born in Pinson, AL July 3, 1927. He was survived by his wife of 71 years, Levaughn, his children,

Donnie Tucker, DeLand, FL, Janie Taylor, Calhan, CO, Judy Adams, Destin, FL, and Sherry Wechsler, Parkland, FL, 3 Grandchildren, and one Great Grandchild. Buddy was predeceased

by his parents, Theodore Tucker, Sr and Lillian Harden Tucker, and his siblings, Merle Tucker, Jewel Franklin, Nell Stephens, Sybil Stephens, Blanche Swatszell, Wilma Sowell, and Lucille Hamlett. Buddy Tucker lost his sight at the age of 15. He attended Southeastern Bible College and became a Minister and Radio Evangelist. He and Levaughn broadcasted his Christian message on the South's most historic stations and held Revivals throughout our country until he launched two Christian radio stations in Iowa. In 1986 he bought WMOB, and subsequently

acquired

WYND-AM (1310)

in DeLand, FL, and WTOF-AM in Bay Minette, AL. Buddy's wife, Levaughn, will continue to operate the stations. She has been his dedicated partner in all his endeavors to spread

the Word of God. Services will be held at Dauphin Way Baptist Church in Mobile on Wednesday, December 20. Family viewing 10:30am, public viewing 11:00am, service at noon. Service and burial

will also be held at Low Gap Methodist Church, Odenville, AL on December 22. Public viewing 11am, services at noon, followed by a graveside burial at Low Gap Cemetery. In lieu of flowers,

donations may be made to Buddy Tucker Association, P. O. Box 9063 Mobile, AL 36609 or through www.buddytuckerassociation.org. Donations will be used to continue Buddy's spreading of the

Word of God through his radio stations. Please sign the online guest book at www.radneyfuneralhome-mobile.com.
Vance Tyler
Daytona Beach News Journal August 1, 2003
Vance Leite Tyler, of North Atlantic Avenue, a radio personality on

WNDB-AM 1150

morning talk show and a broadcaster with

WVYB-FM 103.3, died Tuesday July 29, 2003 of a self-inflicted gunshot wound at home, according to police reports. He was 52. Tyler formerly owned and operated the American Career Institute, a broadcasting school affiliated with WNDB that trained students for a career in radio. He later became a member of the "Dave & Company" morning show on WNDB-AM radio. On-air personalities

Dave Laing

and

Shannon Pierce

said Tyler's legacy will live on through his students, as he helped launch hundreds of broadcasting careers. Another of Tyler's peers, Black Crow (Broadcasting) operations manager and WHOG-FM 95.7 on-air personality

Frank Scott, said, "Vance was highly respected in the broadcasting industry. His work ethic and dedication to the industry was second to none. More importantly, he was genuinely a great person and a friend to everyone who had the privilege of knowing him." Tyler moved to this area in 1973 from his birthplace, Jacksonville. He was an avid Miami Dolphins fan and enjoyed the beach. Survivors include a daughter, Amanda Collins, Winter Park, and two grandchildren. Ormond Funeral Home is in charge.