Donald Ammon
Don Ammon's obituary as it appeared in the Orlando Sentinel April 11, 2007
ORANGE CITY - Donald V. Ammon, 80, of French Avenue, a retired program manager for radio stations WOOO(-AM 1310), WJBS(-AM 1490), WDLF(-AM 1490) WETO(-AM 1490) and WELE-FM 105.9 died Monday at Hospice Care Center, Port Orange. Born in Donora, Pa., Mr. Ammon moved here in 1955 from Pittsburgh. He was a member of First Presbyterian Church, Deland, and a lifetime member of the Shoestring and Caravan theaters and the Debary and the Delray Beach players. He attended Ashland (Ohio) and Stetson universities and the University of Akron, Ohio. He performed in three off-Broadway productions. He was known as the "voice of Deland." Survivors include his wife of 57 years, Kathleen; two sons, Douglas, Washington, D.C., and Matthew, Alexandria, Va.; two daughters, Leah Dreggors, Deland, and Amy Ammon, Orange City; a brother, Jack, Deland; two sisters, Ruth Cochran and Virginia Myett, both of Deland; six grandchildren; and three great-grandchildren. Memorial donations may be made to Hospice of Volusia/Flagler, 3800 Woodbriar Trail, Port Orange, FL 32129; or to the Shoestring Theatre Inc., 380 S. Goodwin St., Lake Helen, FL 32744; or to Journey's End Animal Sanctuary, 1899 Mercer's Fernery Road, Deland, FL 32720. Deltona Memorial, Orange City, is in charge.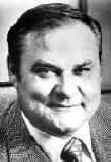 Laura's Oldies Connection 1-29-17

Herb Oscar Anderson

Sad news for fans of 1960s New York radio - the legendary Herb Oscar Anderson has passed away, according to a post by his son, actor John James, on Herb's Facebook page. HOA, as he was known to all of his friends and listeners, was 88 years old.

Herb Oscar Anderson was born on May 30, 1928 in South Beloit, Illinois. His mother (both of HOA's parents were Swedish) spoke very little English, and when his father passed away, young Herb was sent to the Odd Fellows Orphan's Home in Lincoln, IL. He eventually relocated to Wisconsin, and found his calling during his teen years while reporting on high-school sports. HOA wrote for the Jamesville (WI) Daily Gazette, whose parent company also owned radio station WCLO. He applied for work at the station once it dawned on him that it took the on-air personality some two minutes and change to read copy that he, Herb, had taken four hours to compile (and which would end up in the circular file at the end of its extremely brief lifespan). Deciding that devoting two minutes to a topic was better than four hours, HOA promptly switched careers and never looked back.
After working at various radio stations including WROK (Rockford, IL),

WDBO-AM 580

(Orlando, Florida), and WBBM (Chicago, IL), Herb was hired at WABC in New York. He hosted a show on the ABC network and sang live with a band, but eventually left the station. Almost immediately, Herb was snatched up by WMCA, also in New York, where he remained until 1960 when he returned to WABC just in time for its switch to a Top-40 format. Herb left WABC in 1968.

Herb resided on a farm in Hoosick Falls, New York, where he stayed during the warm-weather months; in the winter, Herb and his wife, Terry, lived in the Vero Beach area of Florida. During the last several years of his life, HOA hosted a weekly one-hour show called "Conversations" on radio station WOSN-FM, and kept in touch with friends and fans via his page on Facebook. In 2013, the late Tom Pierce shot a video of Herb as the latter was recording a segment for one of his shows; every couple of months or so, HOA would re-share the video to his own Timeline so that it would remain on top for all to see-and hear.